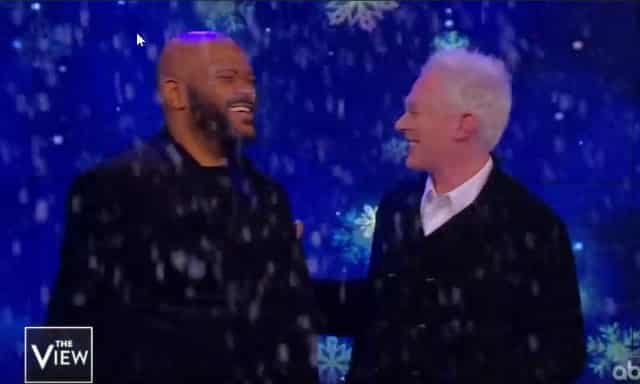 Currently American Idol season 2 singers and Ruben Studdard and Clay Aiken are starring in a special Christmas show on Broadway titled Ruben & Clay's First Annual Christmas Carol Family Fun Pageant Spectacular Reunion Show.
In the run up to the show's opening, the season 2 winner and runner-up respectively stopped by The View to say hi to Clay's pal Meghan McCain and sing a run-filled version of "O Holy Night."
On the NBC Today show, the two recently performed "Don't Save it All for Christmas Day."
https://www.youtube.com/watch?v=GWb_-rjK_Ug
On Pickler & Ben, featuring season 6 alum Kellie Pickler the Ruben and Clay stopped by to promote the show and chat about American Idol. Clay believes that other seasons didn't have the friendships season 2 had. Hm.
Then they perform an impromptu "White Christmas." Kellie joins in. The emphasis is on impromptu. Ahem.
On the Wendy Williams Show they performed "Have Yourself a Merry Little Christmas. The singing begins at about the 10:10 mark.
The show began performances Friday, Dec. 7, at Broadway's Imperial Theatre, opened officially on Dec. 11 and will run through Dec. 30. The run includes a show on Christmas night, so if you're looking for something to do later, pick up your tickets! Portions of the show's proceeds will go to the National Inclusion Project, an organization devoted to the inclusion of children with disabilities in community and education programs.