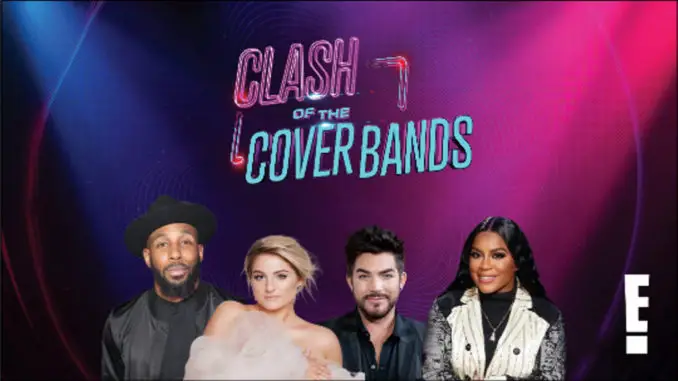 People magazine has revealed the contestants competing on the E! Network's upcoming competitive reality show, Clash of the Cover Bands.
The new competitive reality series brings together the best of the best cover bands from across the country to celebrate music and the art of performance across all genres. In each of the 10 half-hour episodes, two bands of similar musical genre (e.g., Pop Divas, '80s icons, kings of country, platinum icons, rock legends, etc.) go head-to-head over the course of two rounds to see which band has the most entertaining cover performance.
"We've all seen reality competition singing shows before but this one really feels different," judge Adam Lambert told People. "It runs the gamut of different styles of music so I think everyone will really enjoy it."
The American Idol alum and Queen frontman is joined by celebrity judges Meghan Trainor (The Four, The Voice UK) and Ester Dean (Songland), along with host Stephen "tWitch" Boss (So You Think You Can Dance) and show experts Kuk Harrell and Ray Leeper for the series, which premieres Oct. 13 on E! One winner will take home $25,000 and an appearance on The Tonight Show starring Jimmy Fallon. Fallon executive produces.
Artists covered this season include Aretha Franklin, Blink 182, Bon Jovi, Britney Spears, Carrie Underwood, Celine Dion, Cher, Coldplay, Depeche Mode, Dolly Parton, Elton John, Foo Fighters, Jennifer Lopez, Keith Urban, Lady Gaga, Ozzy Osbourne, Poison, Tim McGraw, Tina Turner and U2.
But now, People has a list of the artists, along with short bios on each. Many of the acts perform tributes to specific artists, or perform in tribute bands. In photos that accompany the bios, the acts are dressed and styled like the artists they are covering. Notably, Amanda Kate performs Carrie Underwood songs in a tribute band called Blown Away. 
Clash of the Cover Bands Meet the Contestants
Connie Pena covers Jennifer Lopez
Erika Moul covers Lady Gaga
Fix You covers Coldplay
Annika Weaver covers Cher
Strangelove – The Depeche Mode Experience covers Depeche Mode
Lori Mitchell Gay covers Tina Turner
Adam Tucker covers Tim McGraw
Rus Anderson covers Elton John
Fooz Fighters cover Foo Fighters
Adam Rutledge covers Keith Urban
Slippery When Wet the Ultimate Bon Jovi Tribute covers Bon Jovi
Kate Murdock covers Britney Spears
Shot of Poison covers Poison
Elisa Furr covers Celine Dion
Crazy Babies cover Ozzy Osbourne
Unforgettable Fire covers U2
Karen Hester covers Dolly Parton
Blank 281 covers Blink 182
Amanda Kate covers Carrie Underwood
Elaine Gibbs covers Aretha Franklin