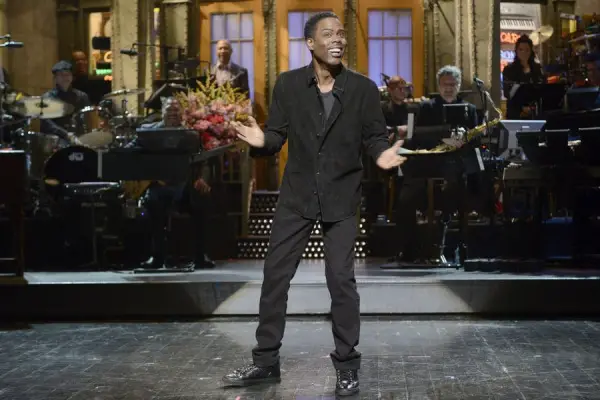 Chris Rock Skits Saturday Night Live
I was expecting A LOT from Chris Rock's stint as guest host of last night's Saturday Night Live (11/1), and I have to say I was left disappointed. His opening monologue, basically his current stand-up act, was funny, but the bits he appeared in didn't rise above the typical SNL hit and miss of late.
Even the skit with African American writer and now featured player, Leslie Jones, fell flat. It would have helped, however, if they hadn't been stumbling all over their words and missing cues. So. Meh.
Chris Christie Cold Open
Bobby Moynihan is always amusing as Chris Christie, but there weren't many laughs in this send up of the FOX show, The Kelly File and the controversy over Christie's forced quarantine of a NJ nurse was depressing. Ebola just isn't funny.
Chris Rock Monologue
There definitely were some laughs to be found in Chris Rock's monologue, although some of the topics he covered (Boston Marathon? The Freedom Tower? Really?) weren't as culturally fresh as they could have been.
Swiftamine
Ha ha. Medication for those of you suffering vertigo after you discover that YOU LOVE TAYLOR SWIFT. Funniest bit of the night. Bonus points: Leslie Jones freaking out at a club.
How's He Doin
Kenan Thompson hosts a show of black pundits discussing what line Obama could cross that would get them to stop supporting his presidency. Of course..it's nothing. Even if Malia and Natasha would sass him back! The bit features Chris Rock as the host of "Shaking My Head" from the new Sirius radio "Uhm Uhm" channel. Ha.
Robbers
A trio of bank robbers (Beck Bennett, Kyle Mooney, Bobby Moynihan) turns thieving into an incredibly polite affair. Another offbeat short from featured players, Kyle and Beck. A robbery goes…very weird.
Shark Tank meets Isis
Some guys (Chris Rock, Kyle Mooney) from ISIS try to sell the Sharks on their "organization." I don't know. ISIS is so horrid. I was laughing, but uncomfortably. Says the female shark, played by Kate McKinnon, "I like you guys. You're savvy, your numbers are amazing. But there's only one thing holding me back, and that's everything you stand for. I'm out." Twist ending: The terrorists get what's coming to them.
Vlog
Chris Rock plays concerned dad to Sasheer Zamata and her sexy dance vlog. Dad after reading daughter's vlog comments: "What the hell is Fap?" Oops.
The Couple
Featuring Chris Rock and Leslie Jones. This skit, about an old married couple who constantly bicker, had potential. Too bad the botched line readings took me out of it.
Weekend Update: Katt Williams and Suge Knight
Jay Pharoah is super hilarious as Katt Williams.