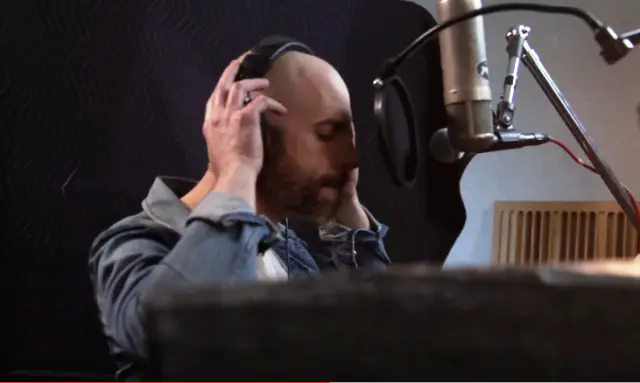 Chris Daughtry is cast to play Judas in the FOX network LIVE network production of The Passion. Here's a preview of the American Idol season 5 singer recording his vocals for Imagine Dragons' "Demons" with musical director Adam Anders (Glee). The production will set the story of the last days of Jesus Christ on earth to a modern music soundtrack.
"Chris Daughtry was my first choice for Judas from day one. That voice. I'm always been a huge fan," says Anders. "I just couldn't think of anybody better to sing that live."
Anders explains that "Demons" is the song that Jesus (Jencarlos Canela) and Judas do together. "This is the moment of the Judas kiss when Judas betrays Jesus," says Anders, adding that it's as if the song was written for the scene.
When Anders described the production of The Passion to the singer, and explained the approach, Chris was sold. "…It was very intriguing to me. It got me excited," he says.
"A guy like Chris Daughtry who is one of the great rock voices singing the Judas stuff…he can really go for it," says Anders. "You feel that bitterness and anger and those emotions you were expecting were happening with Judas…man that guy can sing!"
The Passion airs LIVE on FOX from New Orleans, Palm Sunday, March 20 at 8/7c PM tape delayed on the West Coast.
Listen to a clip of Chris Daughtry singing "Demons" by Imagine Dragons right here.
https://youtu.be/bp-fverRKOg