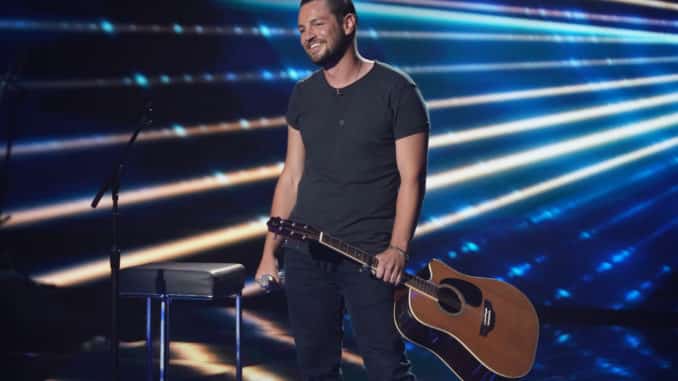 Chayce Beckham heading to Canada with Luke Combs in 2022
Chayce Beckham will be heading to the Great White North! In 2002, he'll be joining Riley Green as openers for the Luke Combs Canadian Tour 2022.
The short tour begins in Toronto on March 20 and ends on March 31 in London Ontario. Tickets go on sale Friday September 24. More ticket info can be found HERE.
The American Idol has been touring around the country this summer. He recently finished a 3 date stint opening for 90s hit makers 3 Doors Down. "Another amazing weekend on the books. Illinois, Michigan, Missouri thank you guys for the love and a huge thanks to @3doorsdown for bringing us out and treating us like family all weekend," Chayce wrote on Instagram.
Chayce Beckham American Idol Single "23" Hits Massive Spotify Milestone
Chayce Beckham May Be Playing A Concert Near You!
American Idol's Chayce Beckham Jams with Luke Bryan on Stage! (VIdeo)
The singer played Summerfest in Milwaukee, Big Night Live in Boston Massachusetts, Kansas State fair, and many other spots in between.
View this post on Instagram
Chayce continues to write new music
And in between touring dates, Chayce is recording new songs for his album. "Just wrapped up recording some songs this week, getting ready to head out to Milwaukee and just sitting here pinching myself asking if this is all still real," Chayce wrote on Instagram. "I get so fired up when I listen to these tracks I see the videos and the concerts in my head and when the vision all comes together and I feel like I'm accomplishing something really good here."
He continued, "I'm really proud of what we've created and I say we because truly it's a team effort, and I can't wait till I can share some of my new work with the world. I want to thank all my fans for being so patient and everyone who's been coming to the shows and driving hours on end to hear these new songs I've been playing. I love hearing y'all's feedback after the shows just know I'm working endlessly and creating endlessly as I promised I would. I'm loving every second and I plan on doing this for a long long time."
Chayce has been singing new songs on the road
Chayce performs "I Almost Wrote a Song about You at Summerfest on September 4.
Chayce performs "Addicted and Clean" at the Ole Smokey Distillery in Nashville. The September 7 concert served as a benefit supporting Middle Tennessee flood victims.
Chayce sings "Whiskey on the Wall" at the St. Louis Music Park in Missouri, before 3 Doors Down took the stage.
Chayce posted another Instagram message thanking his fans
On Sunday (Sept 19) Chayce posted another Instagram message, thanking his fan.s
"I love my job," Chayce wrote. "I spent so many years working dead end jobs and busting my a** outside or glued behind a desk at a computer, just really questioning what my purpose was in this world." The singer continued. "I remember I was cleaning out the waste water drain at my work about a year ago, covered in mud and grease, boots soakin wet shoveling s***, I looked up at the sky and said there's gotta be another way ?. I gave up on my dreams and was really starting to question my future and purpose in this world."
"My drinking and self care was out of hand"
Chayce continued, "My drinking and self care was out of hand, I can say I was pretty defeated before I ever turned 24. This world can chew you up and spit you back out as it did to me time after time. But we all know how that story goes."
I've been blessed with an incredible purpose in this world, and I can't express to you how good it feels to stand up on these stages and truly know what that purpose is," Chayce wrote. "Just want to thank Jesus and every last one of you who supports me for giving me the greatest gift I've ever received. People to sing to and using my words to try and help y'all feel better or feel something at all. I hope you can feel some of that when you come to my shows."
Chayce concludes, "I'm truly the luckiest man alive to get to do what I do every day. If I have a crowd of one or a crowd of thousands, I'm thankful for my job and I will do it with pride for the rest of my days. Just felt like sharing that. Don't ever give up guys. Hope y'all are having a great Sunday, all of my love."
 

 

 

View this post on Instagram