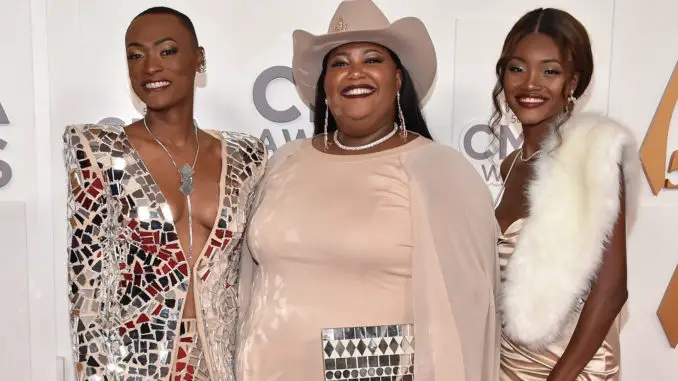 Family trio Chapel Hart released their song "Glory Days" on Friday. The America's Got Talent 2022 finalists co-wrote the song with writers Jim Beavers. The group, comprised of sisters Danica Hart and Devynn Hart and first cousin Trea Swindle are set to hit the road to promote the song.
Lead singer Danica joked in a recent interview with CMT that Beavers is "a hot mess who fits on our hot mess express." About the song, sister Devynn said, ""It's just one of those feel-good songs."
Loretta Lynn cover and new album coming next
Also upcoming for the group is a Loretta Lynn cover, welcome Fist City which they will debut on the Grand Ole Opry this weekend. The song will be their second single from their forthcoming album. Before Lynn died, she asked the trio to redo one of her songs just as they did for Dolly Parton's "Jolene."
Chapel Hart say their album will be out in "springish" in the midst of their Glory Days tour. Danica recently had throat surgery, but she's recovered and eager to tour.
"There's no way you can skip the steps"
Danica's advice to aspiring artists is that "there's no way you can skip the steps."
"I watch people say, 'If I could just get on y'all's show or if I could just get on with Carly Pierce or if I could just get on with Kelsea Ballerini," Danica told CMT. "But it doesn't work like that. When it's your time, it's your time. There's so much groundwork that has to be done. The foundation's got to be solid. Then you'll notice you'll start to get the walls up, and then everything else will get easier. It'll start to take shape and form. But you absolutely can't skip any of the steps."
After the Opry, Chapel Hart hit the road
Last summer, Chapel Hart thrilled audiences with performances on America's Got Talent. In January 2022, they said they were still trying to play in coffee houses and people's living rooms. "A year ago, I wouldn't have ever imagined we'd be where we are now," Swindle said. "Not at all." Chapel Hart were members of CMT's 2021 class of "Next Women of Country" and appeared at an event celebrating its 10th anniversary.
The trio is ready to embark on a long tour, beginning this weekend after an appearance on the Grand Ole Opry at the Ryman Auditorium. From there, they travel to Wichita, Kansas, on January 26 and have dates booked through early July.