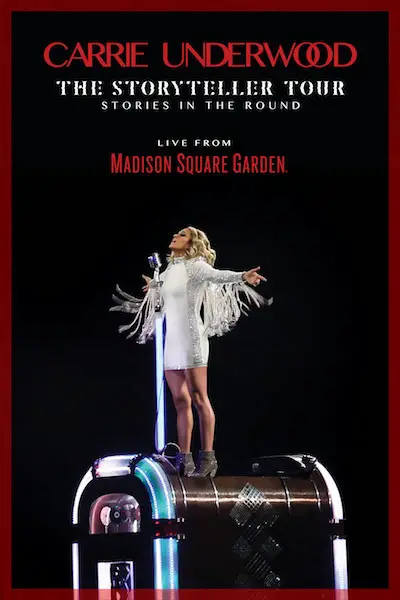 On November 17, fans of Carrie Underwood will get what they've been asking for, to experience her highly successful Storyteller Tour – Stories in the Round again, with the digital release of the live concert filmed at her sold-out Madison Square Garden show. 2016's top touring country female of the year took her critically-acclaimed world tour across nine countries, playing more than 100 shows for over one million fans. Carrie Underwood: The Storyteller Tour – Stories In The Round, Live from Madison Square Garden will be available digitally on iTunes, Amazon, Google Play, and Qello.
"We had the best time on 'The Storyteller Tour' performing for the fans last year," said the reigning CMA Female Vocalist of the Year. "The amazing production and 360-degree stage let me get closer to them than ever before. I saw so many of their social media posts asking for a release of the show and we knew we had to do it. I'm so happy to get this out and relive the most fun I've ever had on tour!"
The tour travelled over 50,000 miles among 18 trucks and 8 buses across North America. Each show consisted of 112 automation cues controlling all elements of the 150 foot-long in-the-round stage including 7 stage elevators, 3 rings of video screen, a revolving central stage, and mirror ball, through 56 axes of motion. The tour used over 51,000 pounds of carbon dioxide, and dropped over 400 pounds of Mylar. Carrie's wardrobe, created by Emmy-winning costume designer Marina Toybina, consisted of 32 custom made costumes and 214 pieces of jewelry, allowing for different outfit combinations across the show's 5 Acts in each city. The tour's Creative Director was Barry Lather (Rihanna, Mariah Carey, Usher, Michael Jackson) and Butch Allen (Metallica, The Eagles, Eric Church, No Doubt) was the Production & Lighting Designer.
The Carrie Underwood: The Storyteller Tour – Stories In The Round, Live from Madison Square Garden set list is as follows, which includes 17 of her 26 #1 singles:
Renegade Runaway
Last Name/Somethin' Bad
Undo It
Good Girl
Church Bells
Cowboy Casanova
Heartbeat
Jesus, Take the Wheel
Wasted
Blown Away
Two Black Cadillacs
Dirty Laundry
Choctaw County Affair
I Will Always Love You
What I Never Knew I Always Wanted
Mountain Music (featuring Easton Corbin and The Swon Brothers)
Clock Don't Stop
All-American Girl
Little Toy Guns
Before He Cheats
Smoke Break
Something in the Water
Carrie Underwood Announces Live Storyteller Digital Out November 17
#CareBears asked & @CarrieUnderwood heard! #TheStorytellerTour live from @TheGarden out digitally Nov 17! https://t.co/i6r6NTfo6v -TeamCU pic.twitter.com/3R1wL6gOb3

— Carrie Underwood (@carrieunderwood) October 5, 2017