American Idol season 4 winner Carrie Underwood received her star on the Hollywood Walk of Fame on Thursday (Sept 20).  The ceremony took place just a few steps away from the famed Capitol Records building. The country singer recently dropped her first album Cry Pretty on the Capitol Records Nashville label.
Former American Idol judge Simon Cowell and fellow country star and friend Brad Paisley were on hand to make the introductions. In the audience were Carrie's parents and siblings, and also husband Mike Fisher and son Isaiah.
Carrie often became tearful as she attributed her success to belief–from those around her such as her fans, family and friends, who offered a never ending supply of support.
"I have never felt so hungover in my life" Simon said at the top of his speech. He managed to make the 11:30 am ceremony after celebrating last night's America's Got Talent finale.
Simon remembered "that moment in St. Louis." That's where a 21 year old Carrie auditioned for the show in 2004. "We were having the worst American Idol season I have ever had in my life," he recalled. "The whole show was in gray and white. It was nothing. And then this shy lady walks in and sings 'I Can't Make You Love Me' and the show turned into full color at that point."
"I think it was after you sang 'Alone' that I made a prediction that you will become the best selling Idol winner, which you are."
Would-be stars Simon has encountered over the years have hoped to become one tenth the success that Carrie is. "But to do that," said Simon, "You've got to have determination, you've got to have talent."  Don't let that shy demeanor fool you, Simon warned.   "Behind that smile these are eyes of steel, trust me. And that is the sign of a winner." He continued, "Carrie always understood her audience. She writes, she produces, she sings. She's made a ton of money! And I'm thrilled to be saying this–Carrie Underwood I love you and you are a total total star."
Brad noted that beyond achieving superstar status in the country world, Carrie is also an "amazing" person.  "…doing good works in this world, and making sure that she's giving back. Between herself, Mike, her family [they] live the kind of life all of us would be proud to live." Carrie represents country music worldwide, Brad said. "Carrie is really in many ways this generation's Dolly. The person that the world looks at as Miss Country Music. I just don't think we can ask for a better ambassador." Jokingly, he ended his remarks,  "I think of the artist…recording at Capitol Records that [will] walk out here one night drunk, and throw up on the star of one of the most important artists we will ever have in our format. We love you Carrie."
When Carrie took the podium, she instantly teared up. "How is this my life? How does a girl from Checotah Oklahoma end up with a star on the Hollywood Walk of fame?" The answer is one word: Belief, Carrie offered. She went on to describe how her parents drove her around to talent shows. They encouraged her when she was down. They made sure she practiced. "There was belief there," she said.
As she got a little older, and reality set in, Carrie wondered "how does anything like this actually happen to a girl like me?" So she tried out for American Idol. Cue the audience chuckles! "I had judges who believed in me from the beginning. And I had people voting for me who believed in me the whole way through," Carrie said.
"And then I met an incredible man, Mike, who thinks I'm so much better than I actually am in every way. Thank you for believing in me as a human, as a wife as a mom and supporting me through all of this." Carrie, who is pregnant with her second child shouted out to her 3 year old son. "We had another little man who believes in me too. Isaiah Michael I love you so much. You're the best thing we ever did. The best thing I love. And I'm proud of you and I believe in you too."
"I think my mascara is running," Carrie joked. "But this is absolutely amazing and a dream come true. Thank you for believing in me–fans, family, friends. The incredible people that I get to work with. That's how this happens. Belief. So believe in people. Believe in yourselves. Thank you."
Watch all the speeches and photo call below.
PHOTOS: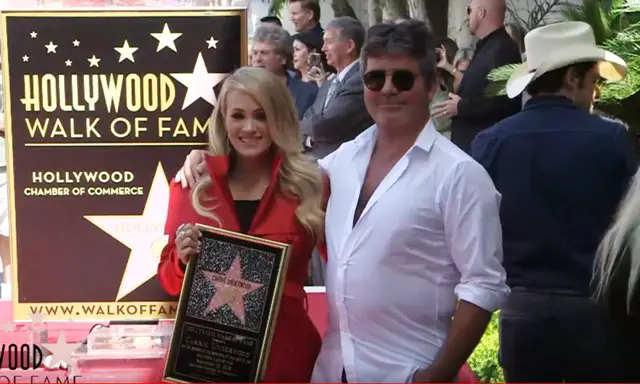 https://www.instagram.com/p/Bn96NEiBkxK/