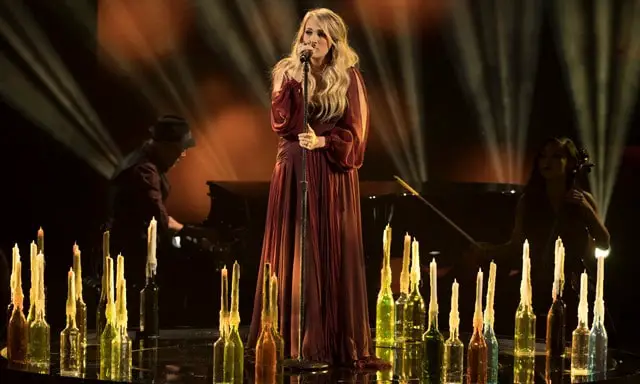 Carrie Underwood took the stage at the American Music Awards on Tuesday (Oct 9) perform a stunning, emotional performance of "Spinning Bottles," which she co-wrote with Hillary Lindsey and David Garcia for her new album, Cry Pretty.
2018 American Music Awards Complete Winners List (PHOTOS VIDEOS)
The American Idol season 4 winner also picked up the award for Favorite Female Country Artist (her 13th AMA). She directed the majority of her acceptance speech to her fans. "Oh my goodness. Thank you, God, first and foremost. I have an incredible team of people that make my universe go 'round, so thank you so much. But tonight is all about the fans. Thank you so much. You have shown so much love and support for me for the past few months of my life — well my whole career, honestly — but especially these past few months. I feel it…You guys mean the world to all of us. Just thank you so much."
She continued to thank everyone later in the evening on Instagram. "Such a wonderful night! I am honored and humbled by the love I received from you all tonight. I made absolutely no sense in my speech and didn't say half of what I should've, but I want you all to know that your support means everything to me! Also, I am beyond honored to be in the company of such talented ladies like @marenmorris and @kelseaballerini to represent the women of Country Music tonight. That said, I'm off to peel this dress off and cuddle up to my little man! I shall go to bed with a full and happy heart! And, of course, thank you #AMAs for having me and for letting the fans call the shots!"
Watch Carrie Underwood's live premiere of "Spinning Bottles" on the 2018 American Music Awards.
Bonus Videos: Later that night, Jimmy Kimmel Live aired Carrie performing "Ghosts on the Stereo" and "Love Wins." Watch both performances here.
Carrie Underwood performs "Ghosts on the Stereo"
Carrie Underwood performs "Love Wins"