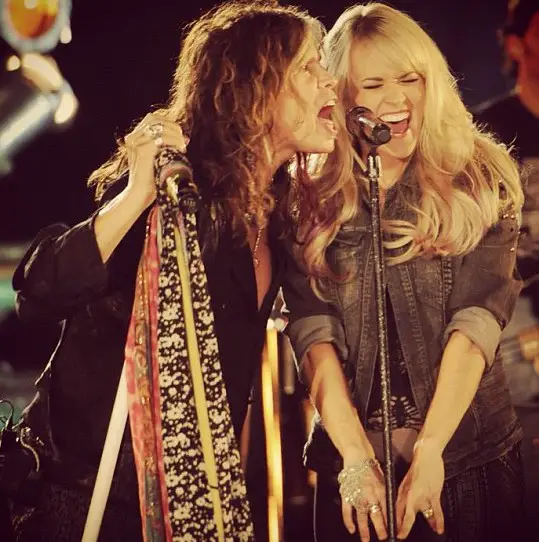 Carrie Underwood and Steven Tyler joined forces on a special Superbowl edition of CMT Crossroads Saturday night, live from Indianapolis, IN.
The show kicked off with a medley of Sweet Emotion/Love In An Elevator and continue with the country girl and the rocker dueting on  Before He Cheats, Crying, a mashup of Just A Dream/Dream On, Undo It, Walk This Way, and the concert came to a close with a cover of Born To Be Wild.
In between songs there were backstage conversations where the duo mused about the differences between their genres and complimented each other on their strengths.
Concert goers reported some bass problems.  The technical issues took so long to resolve, Carrie sang a line of "Super Bass" and the two began writing a song together!
Break while fixing the bass – Super Bass – Before He Cheats
VIDEO: Vinmansmedia
http://youtu.be/2t5McXIyaTg
Part 1 ("Sweet Emotion", "Love In An Elevator", "Before He Cheats"

Carrie Underwood – CMT CrossRoads Part 1 by Vinmansmedia
Part 2 ("Cryin", "Just A Dream"/"Dream On")

Carrie Underwood – CMT CrossRoads Part 2 by Vinmansmedia
Part 3 ("Undo It", "Walk This Way", "Born To Be Wild"

Carrie Underwood – CMT CrossRoads Part 3 by Vinmansmedia
Undo It – Walk This Way