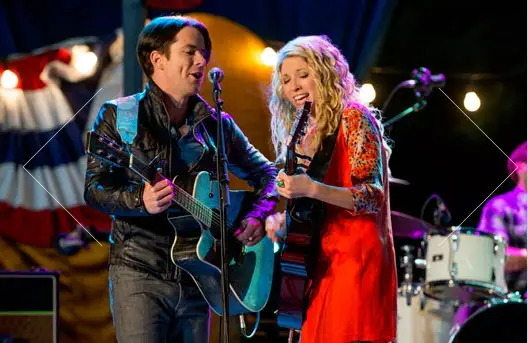 Last night, Banner 4th of July, the Hallmark Channel movie starring Brooke White premiered. If you missed it, check your local listings. I'm sure it will repeat during the week.
The American Idol season 7 alum plays Desiree Banner who is on the outs with one of her two brothers (Christian Campbell) after a fall out 10 years before. When mom has a heart attack, the family is back together in their small hometown over the 4th of July holiday.
Desiree works on patching things up with her brother and eventually the 3 get back together to perform a concert designed to raise money for their town, which is going bankrupt.
The soundtrack EP came out ahead of the debut, featuring four songs–two solo with co-star Christian Campbell, and two by the duo Jack and White.
Check out a few videos from the movie
Fly Fly Fly with Christian Campbell
http://youtu.be/eJlbdEZJxqo
Sun Up Sun Down feat Christian Campbell
http://youtu.be/2A0wUmhe4ro