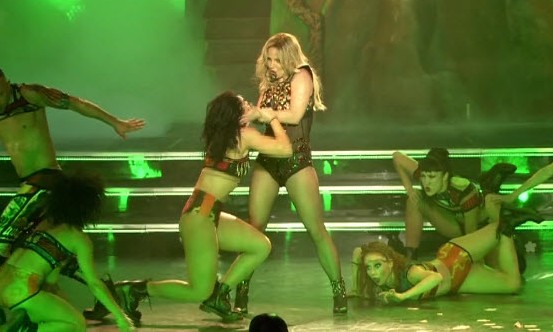 The highly anticipated Britney Spears Las Vegas review "Piece of Me" opened last night at Planet Hollywood. This is the singer's first Vegas residency, and by all accounts, she puts on an elaborate show that includes a bevy of dancers, descending from the rafters in angel wings, and flying through the air.
The only thing it doesn't seem to have is live singing. But we were all expecting that, right? In the audience to take in Brit Brit's debut were Miley Cyrus (who appeared to be doing everything possible to pull focus), Katy Perry and Adam Lambert.
Check out this short clip of Britney doing her thing.

Britney Spears PRO SHOT Las Vegas Opening Night… by ladygagaspecial
Here's Miley Cyrus grinding on and making out with two of Britney's female dancers