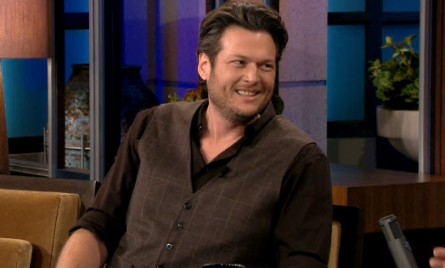 The Voice coach, Blake Shelton usually brings it when he's a guest on talk shows, and his Thursday night appearance on the Tonight Show with Jay Leno to promote The Voice and his Superbowl appearance (Blake and his wife Miranda Lambert will sing "America the Beautiful" before the game) did not.
Blake chatted with Jay about life with his new-ish wife that included his dismay at her taste in TV shows (turns out SHE controls the remote). But in case you thought he didn't have a soft side–the country singer admitted to crying through the movie "The Notebook" (Jay had a field day with that)
In part 2, Blake introduced a preview of the fun The Voice ad that will run during the big game.   Don't forget–after the Giants and  Patriots battle it out on NBC, The Voice 1 hour premiere will air.
Part 1
Part 2