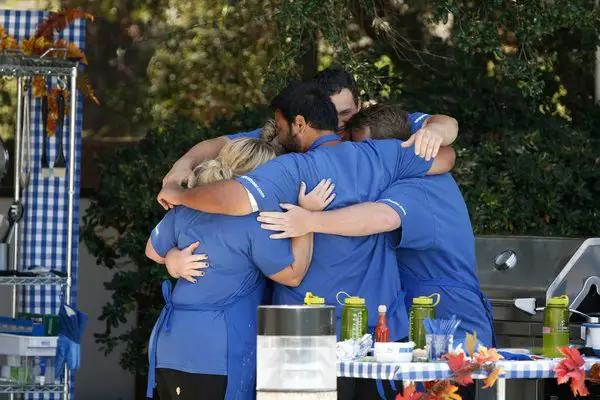 Tonight's episode starts with everyone still pretty sad about Ruben's departure from the ranch. Dolvett takes his team to a cancer survivor boot camp to show his team they can overcome. David lost his first wife to cancer after a 10-year battle.
Of course losing weight is also about nutrition so White House chef Sam Kass stops by for a special challenge.  Contestants will be cooking for last season's kid ambassadors Bingo, Sunny and Lindsey. Winners get a year's worth of produce if they make the most creative, healthy and delicious dish in just 30 minutes.
Immediately the white and blue teams decide on quesadillas and the red team are making tapas. So much for creativity.   Tanya owns a restaurant, but all the contestants are having to learn a whole different way of cooking.
Bingo doesn't like veggies so he will be hard to please. He likes the blue team's because they chopped their veggies up so he can't taste them in there as much. Maybe he's just partial because that was his team last season too haha. Blue team wins!
After the meal Jennifer talks with Bingo and his mom about how to help her daughter make better food choices.  Red and white teams are still feeling pressure because blue team still has all 5 contestants & a trainer save.
Jillian puts her team through a tough pool workout where she has to get Craig through his fear of swimming. For the red team Tanya isn't able to make it to the workout because she's sick but she eventually pushes through to workout on her own.
Wow!  The weigh in begins with the white team being penalized 4 lbs. because Jillian gave caffeine supplements to her team. This makes last week's weigh in invalid as well. Everyone will be counted the lbs. over the last 2 weeks. The blue team keeps their immunity from last week and Ruben can return! Yay!
Blue team is first.  Bobby loses 19, Hap 15, Chelsea 13, Matt 21, Holley 19. White team Craig loses 14, Marie 12,  Jay 13,  & Tumi 13. Red team David loses 13, Jennifer 12, Tanya 15, Rachel 18. White team loses & Craig is sent home. Sad Jillian saved him then ended up sending him home essentially. Sorry folks we won't see the return of Ruben til next week. What did you guys think about what went down? Should Jillian have been penalized ? Excited to have Ruben back? Here's a tease of next week!