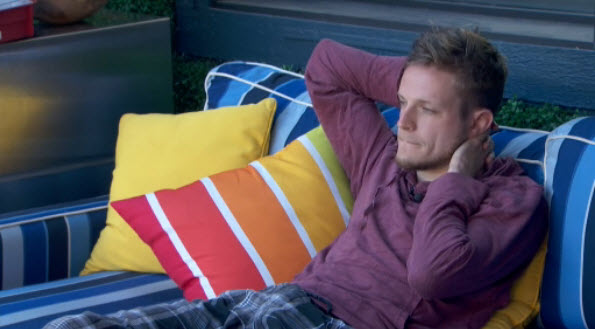 Big Brother 17 Spoilers Week 7 Eviction Plans Change
After the PoV ceremony on Monday, when HoH Becky blindsided Vanessa and put her up on the block next to Shelli, it appeared that the entire house would come together to evict Van.
As it often happens on Big Brother–plans have changed. Shelli is now likely to be leaving the house on Thursday–unless the houseguests change their minds again. Stay tuned!
There was no big event that precipitated the shift. Lines have been drawn, and it's become clear to the houseguests who is loyal to whom. James, Meg and Jackie got to talking, and they came to the conclusion that if Shelli isn't evicted this week, it will be harder to get her out later. The double elimination coming up makes the trio even more uneasy, because they know that as soon as Shelli can, she'll come gunning for all of them. James is especially in danger, after targeting her the previous week while he was HoH and the HG responsible for eliminating her man Clay before Jury. Plus, she's a competition BEAST.
Vanessa, on the other hand, has set her sights set on Public Enemy Number 1, Becky–and Steve too, because she's also caught wind that he's working with John and Shelli. Becky will be her number one target if she survives, leaving the others alone for the time being. As far as Becky is concerned, Meg, James and Jackie are now paying attention to what Vanessa has to say about the week James was HoH. Becky was ratting out their plans to the other side of the house, and was partly responsible for saving their target Shelli. The trio have also noticed that Shelli, John and Steve seem to be working with Becky, and that leaves them wary. Vanessa needs to go eventually, but so do John, Steve and Becky. That is, after Shelli is dispatched.
Last night, Austin, Julia and Liz (who have always been closer to Van), made the decision to team up with Meg, James and Jackie as a loose alliance to evict Shelli and protect each other through the upcoming double elimination. Meg told Becky that she thinks Shelli will target them in the double elimination, and Becky went right back and relayed that bit of info to Shelli, who will probably be scrambling to make sure she's safe.