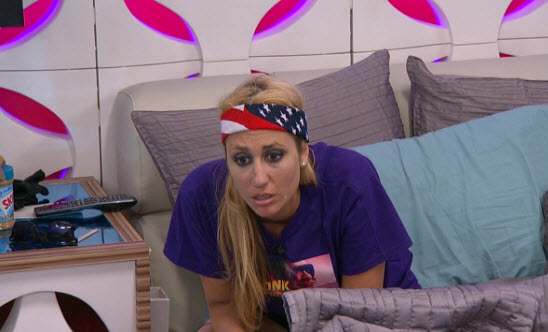 Big Brother 17 Spoilers Week 3 – POV Competition Results
After
Vanessa
,
John
,
James
,
Audrey
,
Austin
and
Shelli
were chosen to play the Power of Veto.
Austin
and
Vanessa
celebrated over the results.
John
got Houseguest's Choice and picked
Austin
.
However, the celebration was short lived. John won the veto. Austin came close to winning it, but held back and lost. Vanessa is really upset Austin didn't give the competition his all, because John WILL take himself off the block, just like he did last week. This means Vanessa will now have to put a house guest up. Her plan was to keep the nominations the same, with John as the target.
The initial plan was to backdoor Jeff, while allowing the other side of the house–John, James, Meg, Becky, Jackie and Jeff–believe Audrey would be the target. However, Vanessa came to believe that backdooring Jeff would leave too much blood on her hands. She feels she's got a perfect excuse to evict James–he lied to her about his plan to backdoor Jace. But without a solid reason to nominate Jeff, she's afraid she'll become the next target.  For their part, Clay and Shelli feel threatened by Jeff and would prefer that he get the boot. Clay was subtly trying to sway Vanessa, but she wouldn't budge.
But now, Vanessa's hand may be forced. She toyed with the idea of putting Jackie up as a pawn. But there's still the issue of how to deal with the side of the house expecting Audrey to be back doored.  The POV ceremony is Monday. There's going to be plenty of back and forth over the decision in the meantime. Vanessa is smart, but she lacks the nerve it takes to go through with big moves. Also, this back door plan was maybe not thought out as well as it could have been.
Earlier today (Saturday), Meg and Audrey had it out in front of Vanessa, who was acting as mediator. Meg swore that last week, Audrey namechecked Liz, Austin, Vanessa and Becky as houseguests who might vote to evict Meg out of the house instead of Day. Vanessa, concerned that Audrey was spreading dirt behind her back, tried to get to the bottom of it. When she refused to believe Meg's story as 100% the truth, Meg cried, and left the room somewhat upset. Audrey is a known liar. It's a no brainer! Of course Meg is telling the truth. But on the other hand, Vanessa is working with Audrey this week, in order to get her vote and keep her calm.
Honestly, Vanessa should have just backdoored Audrey and been done with it.
Vanessa is racking her brains to come up with a compelling reason to put up Jeff and to explain why she isn't backdooring Audrey like everyone expects. A lot could happen in the next two days, and probably will. So stay tuned.
Related: Big Brother 17 Spoilers Week 3 – Nominations and BoB Results