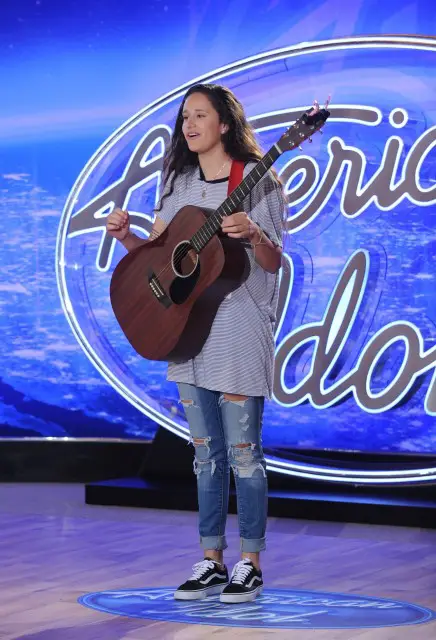 Avalon Young American Idol 2016 Season 15 Contestant
Avalon Young
is a 20-year-old singer from San Diego, California, who began singing at the same time she was learning how to speak. Named after the song Avalon, by Roxy Music, Avalon started playing guitar at age 7. By age 18, Avalon released her first EP, Drowning In You, which was when she decided that she wanted to pursue music for the rest of her life. Describing her music as a hybrid of different musical styles, Avalon is inspired by R&B, rap and hip hop. In addition, Avalon cites The Weeknd, PARTYNEXTDOOR and Kehlani as some of her influences. According to her website, currently Avalon is working on her second EP.
Click to see the FULL LIST of American Idol 15 Top 24 Contestants!
American Idol 15 Top 24 Video Sneak Peek
Aside from writing music, Avalon enjoys performing covers for Youtube and collaborating with other artists for videos. Of her collaborations, one was with American Idol season 9's Andrew Garcia, where the duo performed Drake's Hotline Bling. Some other interesting facts about Avalon are that she prefers street-wear and urban clothing and will never be caught in a dress or skirt, she wants her music to have variety and she loves to perform.Over this past summer, Avalon auditioned for American Idol's final season. According to The Idol Pad, Avalon advanced through Hollywood Week all the way to the Showcase round. Performing Yo (Excuse Me Miss), by Chris Brown, Avalon gave a strong enough performance that she was then admitted into the top 24.
Instruments Avalon Plays: Guitar
Links:
Overall Thoughts: Avalon is the badass of this batch of contestants. I really admire her guts with her musical decisions and mashups, and I think she is definitely one who will take risks in the competition. In a way, Avalon is the kind of gutsy performer that is an Idol fan's dream; I just can't imagine her sticking to overdone and traditional songs, but rather approaching things with a mindset of "how can I make this different and unique, but still make it me?" To a certain degree, Avalon reminds me of last year's Joey Cook, specifically how both approach songs and make them their own. I'm excited to see what Avalon pulls out this season. Hopefully some interesting and different arrangements are in store for us.
Song Suggestions:
Zombie, by The Cranberries. I can already imagine an acoustic Avalon version of this song.
High and Dry, by Radiohead
You and Me, by Lifehouse
Avalon Young sang XO by Beyonce at her San Francisco audition. Click to check out her FULL AUDITION
More American Idol Performances:
Showcase Round – Yo (Excuse Me Miss) by Chris Brown – Click to Watch VIDEO
Semifinal Round– Love Yourself by Justin Bieber – Click to Watch VIDEO
Idol Star Duet Round – with Ruben Studdard – Flying Without Wings – Click to Watch VIDEO