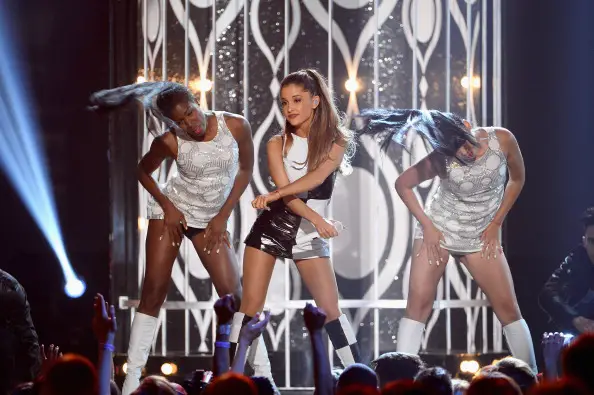 Hey Ariana Grande! Nobody cares if you hate 'murica. Well, I'm sure some folks do. But really, that muttered utterance at the end of the Donut Shop Video is NOT the thing that's freaking people out.
It's the donut licking. You and your boytoy were LICKING DONUTS, in some weird version of "Truth or Dare," that were eventually SOLD to unsuspecting customers. You were also rude to the staff. It was general behavior most 14 year olds have outgrown.
Read More: Ariana Grande Apologizes for "I Hate America" Video
But then there was the DONUT LICKING. GROSS. So gross, that Wolfee Donuts in Lake Elsinore, California, where the incident took place, has been knocked down one letter grade by the local board of health, the shop confirmed to the local NBC affiliate. Once they had a perfect A. Thanks to Ariana Grande spreading her spit, the store has been downgraded to a B.
What's more, the local police department is investigating, according to the Associated Press.
Dottie Ellis-Merki, a spokeswoman for the Riverside County Department of Environmental Health, said the agency was investigating why the doughnuts were left out unprotected and exposed to the public, in violation of state food laws. And that's it. Ariana Grande can continue her spit spreading ways, because apparently, purposely endangering the health of others isn't a crime.
"During the investigation, the manager did state they normally don't leave donuts out like was shown in the video," Ellis-Merki said in an email to the AP. "The employee went to the back to retrieve freshly made donuts by request of the customer and left the trays out while getting other trays."
Perhaps the donut shop is regretting leaking the video.  Forget emotionally and mentally stunted celebrities who drop by to cause mischief.  It appears local agencies are suggesting there would have been no donut licking in the first place if the shop hadn't violated town codes.  Go right ahead and blame the victim, Riverside County.