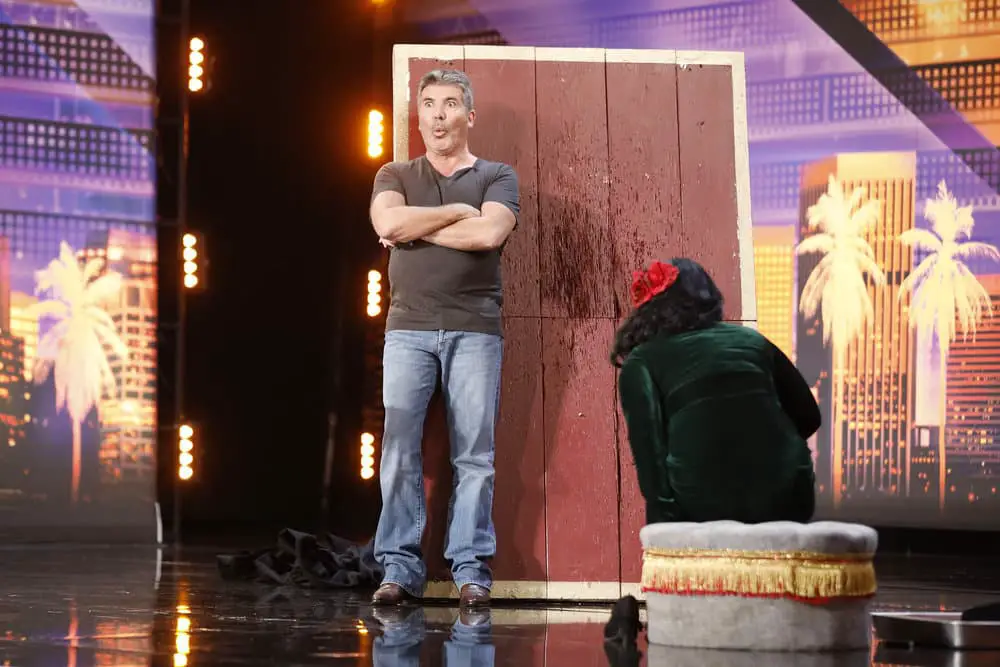 America's Got Talent 2019 continues on Tuesday June 25 with the fifth audition episode. Check out the remaining acts set to perform in front of judges Howie Mandel, Gabrielle Union, Julianne Hough and Simon Cowell. Terry Crews serves as host. Audition 5 contestants include a Ukrainian shadow dance group, a young contemporary dance duo and more.
Check out all the competitors below, along with an accompanying photo gallery. America's Got Talent airs on NBC Tuesdays at 8pm. We'll be here live blogging every performance.  Just as an FYI, the remaining Golden Buzzer belongs to Julianne Hough. I wonder who she'll choose…
Correction: Tuesday is not the final AGT audition. However, the Tuesday July 2 episode is a clip show.
CONTESTANT LIST:
Nick & Lindsay – Knife Throwers?? Per the photo above, it appears that Simon Cowell gets in on the act…
Ben Trigger – According to this bio, Ben has been in the "musical theatre and dance world both professionally and in amateur productions for over 12 years." Hm, probably a joke contestant.
Death – Undoubtedly a joke contestant. 
Verba Shadow – This Ukrainian dance troupe meshes movement, special effects and silhouette. Watch a preview of the group's performance HERE. 
Ndlovu Youth Choir – The group formed in 2009 from the rural village of Moutse, Limpopo. You can watch their story HERE. Check out their official website HERE.
Lukas & Falco – Dog act – Lukas Pratschker and his dog Falco are based in Vienna. Here they are "dancing" to songs from The Greatest Showman at the Crufts dog show. 
Izzy and Easton – Contemporary kid dance duo – 11 year old Izzy Howard and 14 year old Easton Magliarditi hail from Las Vegas, Nevada. Watch a preview of the duo's touch contemporary dance routine HERE.  The duo won the German Got Talent series Das Supertalent in 2013. 
Phobia VR – Virtual Reality act
Emmane Beasha – Tween singer – Eleven year old Emanne Beasha is a Jordanian singer of Circassian descent and the winner of Arabs Got Talent season 5.  Check out her YouTube channel. 
Lamont Landers – Singer – Soul singer Lamon Landers hails from Alabama and previously appeared on FOX's Showtime at the Apollo.  The singer and his band released a self-titled album on 10 Ton Records.
PHOTO GALLERY