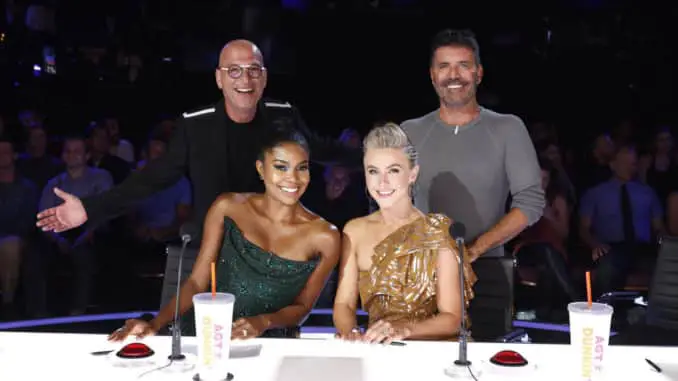 The America's Got Talent LIVE Quarterfinals continue on Tuesday August 20 at 8 pm ET/PT on NBC. Twelve acts will perform in front of judges Howie Mandel, Gabrielle Union, Julianne Hough and Simon Cowell.
It's the second week of the Quarterfinals. And here is your second set of contestants. This week's wildcard pick is…The Sentimentalists. Ugh. Last week, it was the not-ready-for-prime-time tween singer Ansley Burns. The second of three picks is the weak sauce mentalists, The Sentimentalists. So far these are POOR wildcard choices. 
The Golden Buzzer's this week include Tyler Butler-Figueroa, chosen by Simon Cowell; Joseph Allen, a singer chosen by Howie Mandel; V. Unbeatable picked by guest judge Dwyane Wade; and Light Balance Kids chosen by guest judge Ellie Kemper.
Tyler Butler-Figueroa – Young Violinist – Simon Cowell's Golden Buzzer – Tyler was diagnosed with acute lymphoblastic leukemia when he was 4. After three years of chemotherapy, he is in remission.
Joseph Allen – Singer/songwriter – Howie Mandel's Golden Buzzer – It's really a mystery why Howie hit his buzzer for the middling talent, Joseph Allen. But here we are!
Marina Mazepa – Dancer/Contortionist – Marina performs an intense blend of contemporary dance and with body contortion. She made it to the Academy on last seasons So You Think You Can Dance and was also a contestant on France's Got Talent. She freaks Simon out!
Charlotte Summers – Young singer – She's from Marabella, Spain and has appeared on La Voz Kids Spain in 2015, Big Talent in 2016 and Eurokids International in 2017. She belted "I Put a Spell On You" with a big bluesy voice in her audition and wowed the judges with a rendition of "You Don't Own Me" for the Judge Cuts. Charlotte is a cut above most kid singers, bringing authentic emotion to her performances. 
Robert Finley – Singer/Songwriter – This 60ish singer songwriter is only now finding his groove after, He's a Vietnam Vet who lost his sight from Glaucoma. He gave up his musical dreams to raise a family, but now his prodigious musical talents are being discovered on AGT. Actually,  he had already caught the attention of The Black Keys' Dan Auerbach.
Ryan Niemiller – Comedian – Ryan was born with no arms, essentially, but it hasn't stopped him from pursuing a career in comedy. A funny guy, he's a good bet for the finals. 
Chris Klafford – Singer – Chris won Swedish Idol a few years ago. A rock singer who seems older than his thirty years, he wowed the judges with a rendition of "Imagine" in his audition.
Light Balance Kids – Blacklight Act – Ellie Kemper's Golden Buzzer – This group of talented cuties are an offshoot of AGT alums, Light Balance. The kids hail from Ukraine and deliver disciplined, mature routines. 
Ndlovu Youth Choir – Choir – From Africa – This choir is thoroughly enjoyable due to their polished and well-rehearsed performances. The best choir on the show this season.
The Sentimentalists – Mentalists – WILDCARD – Ehhhhh. Really? So far The Sentimentalists have offered up ho-hum tricks delivered in badly constructed narratives. I wish Simon would bring back the hoop guy, Matthew Richardson.
V. Unbeatable – Acrobatic Dance Troupe – Dwyane Wade's Golden Buzzer – The group, made of children from the ghettos of India, delivers a thrilling mix of dance and acrobatics.  
Nick & Lindsay – Opera/Danger Act – Can you say cannon fodder? Nick sings opera, while Lindsay throws knives at him. And that's the act. And they are both mediocre at what they do. 
America's Got Talent Promo
https://www.youtube.com/watch?v=h4CxZzWIqGo