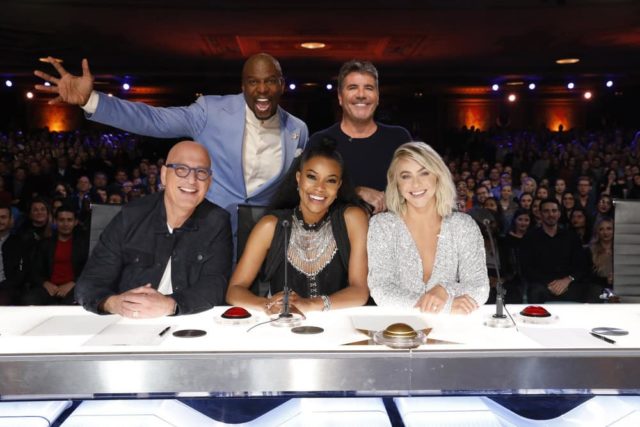 America's Got Talent recently began filming auditions for the 2019 summer season! Check out the first official photos of the panel featuring new judges Gabrielle Union and Julianne Hough. The two newbies are joining veterans Simon Cowell and Howie Mandel at the table. Terry Crews is set a permanent host after a successful stint helming the winter hit America's Got Talent: The Champions,
America's Got Talent enters a brand new era without departing judges Mel B. and Heidi Klum. Will Simon's decision to shake up season 14 prove to be wise? Or is he making unnecessary changes to a successful show? We'll find out when the new season of America's Got Talent premiers this summer. 
In the meantime, fans can sign up to attend an America's Got Talent taping. Audition are scheduled for the next couple of weeks at the Pasadena Civic Auditorium. Check out the full schedule at On Camera Audiences.
New judge Julianne is a two-time professional dance champion and has appeared as a judge and pro on Dancing with the Stars. She has starred in the films Footloose, Rock of Ages, Safe Haven and Bigger. She also appeared in the FOX broadcast Grease: Live and will be seen in the upcoming Netflix anthology series Dolly Parton's Heartstrings.
Her fellow newbie Gabrielle is set to executive produce and star in Bad Boys TV spinoff L.A.'s Finest on Charter's Spectrum network, premiering May 13. Her credits include films Bring It On, Bad Boys II, Think Like a Man, and Breaking In. Her TV show Being Mary Jane will have its two-hour finale in April on BET.
Terry currently co-stars in the NBC series Brooklyn Nine-Nine, and co-starred in the hit  movie Deadpool 2 and Sorry to Bother You.