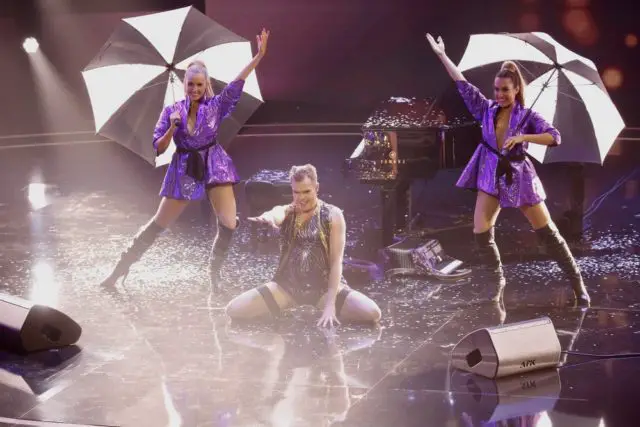 America's Got Talent Judge Cuts continue tonight. The act judges Howie Mandel, Mel B., Heidi Klum and Simon Cowell choose during this round will join the Golden Buzzer acts in the LIVE shows.
Host Tyra Banks hosts it all.  Join us as we live blog all the performances.
Actress Olivia Munn is tonight's guest judge. Which act will be her golden buzzer? Eighteen acts perform, but only SEVEN advance to the live shows.
Olivia hopes to see a dog sending emails. She claims to be a big fan of the show. 
Human Fountains – JOKE ACT! These are the dudes that spit in each other's mouths. REALLY GROSS. One of them does a podcast with his mom? OK then. The judges really liked the act…except Simon.  The second go is pretty much the same as the audition. A little more coordinated maybe–featuring a breakfast theme. Still BORING. Who is going to X this crap. Please, I'm begging you. Now they're spitting orange juice at each other.  Spitting raw eggs into each other's mouths? The ultimate gross out. Nope. "I need a bucket," says Tyra. Mel B likes the fact that they actually told a story. (Waking up in the morning). Howie thinks they stepped it up. "I think they're really stupid," says Simon. What Simon said. 
https://www.youtube.com/watch?v=hTpQitW0N6w
Shin Lim – Close Up Magician – He studied piano at conservatory on scholarship, but got carpal tunnel syndrome and had to choose either music or magic. He proposed to her fiance, who works for another act, on stage. Shin was recently previewed. Olivia sits on stage with him, helping with a trick or two, and making sure there is no funny business. Shin's hand is deft, his skills impressive. I like that little wink at the end. Heh. Shin's stage presence is also on point. Olivia says, "You're so gifted!" Simon says, "That was bloody amazing." Heidi calls him "mind blowing." Howie says, "This time was even more magical."
https://www.youtube.com/watch?v=py-8BOeKQa4
Two montaged acts aka no chance in hell they'll advance: The Melisizwe Brothers – Kid group sing a credible version of  "September." They are kind of Jackson 5ish? I don't remember these kids at all from the auditions.
Ditto fourteen year old Macy Mae, who appears to be some sort of rocker hippie chick. Didn't see her in the auditions, don't see much of her this time either. 
Sophie Fatu – Annoying kid act dead ahead! Sophie is only 5 years old. She really wants to be a BIG SUPERSTAR. She sang "My Way" for her audition. She's a big Frank Sinatra fan.  Simon introduces shtick involving his young son Eric.  When Simon claims Eric has a crush on her, the young boy vigorously shakes his head no. Way to embarrass your boy there Simon.  This time she sings "New York New York" accompanied by all the tiny tot pageant moves. Sorry. I hate it when small children are paraded around like this. Boo to her parents. Simon claims she's the youngest ever America's Got Talent contestant. Didn't some 4 year old come in second about 10 years ago? Or maybe she was 7. I wonder what happened to her.
Reyes Del Swing – Dance Troupe – These dancers from Colombia come from poor neighborhoods. They practice in the streets. MONTAGED. They're screwed. Simon calls them fun and professional, "We need you in the live shows." Hm. 
Future Kingz – Dance Troupe – This dance troupe features performers of all ages. Lots of breaking before the kiddos join in and cuteness prevails. The little one kind of breaks up the professionalism? He can't keep up. Howie calls them the future. Olivia loves the synchronicity. Simon felt this time was a step up. They aren't technically the best, he says, but their connection to the audience and each other is heartwarming. 
https://www.youtube.com/watch?v=druSDPfh2g8
Lioz Shem Tov – Comic Mentalist – Oh, this guy was so silly in his audition, he won the judges over–except Heidi. He swears he will SHOCK her with something new. Something called MAGIC!  He makes crappy balloon animals out of a medical glove. It's the way he presents these obviously terrible tricks that make the act a hoot. It's a very funny send up of the genre's cliches. "It's not magic, but it's something awesome," says Olivia. Simon still thinks its hilarious. "But it's not supposed to be funny," says a totally deadpan Lioz. Heidi still isn't convinced. In response, Lioz packs up his stuff and leaves. Ha. Doubt he's going through. But maybe he should. 
Angel City Chorale – Los Angeles Based Chorale – This warm and fuzzy act consists of volunteer singers. And they have backstories!  One man has a stutter. That's not the sad part–his 5 year old son passed away. The choir got him through it. The performance is another  African tinged tune that gets the audience on their feet.  Simon loves these choirs. "You took me on a journey," says Howie. Simon calls them "inspiring." When it's Olivia's turn to talk she…hits her Golden Buzzer. REALLY? Ok then.  Even being a high school choir kid myself, I just DO NOT GET choirs advancing on talent shows. Sorry. Not feeling it. 
https://www.youtube.com/watch?v=XStvwK6yKvs
Shannon & Reckon – Dog Act – INCREDIBLY CUTE DOGGO. Ohhh. The act went wrong. Sometimes puppers just aren't in the mood to do tricks.
Exisdance – Video Projection – Howie flat out calls this act, which features a guy playing an over-enthusiastic robot, "boring." Bye guy. 
Hans – International Superstar! – Hans is fabulous with his bright blue eye shadow, fake German accent, and "interesting" outfits. Part of his shtick now is a crush on Simon. "I am just a little German boy, sitting in front of a music mogul, asking him to love me." This time he sits at a piano–for a few seconds before busting out into "It's Raining Men." A little TOO cliched maybe? I think I liked his audition better. He strips down to short shorts and brings out the accordion. What the heck.  Heidi likes that he crams so much into his act. "You're the gift that keeps on giving," says Mel. "You managed to make it even worse than the first audition…but there's something compelling about you," says Simon. Hans shows off his butt just to illustrate.
https://www.youtube.com/watch?v=-M4OypyIOkQ
Vivian Vajda – Jump Roper –  Oh oh, she sprained both of her ankles recently. This was a pretty impressive act first time around. She gets the montage treatment, though. After she finished, she was in so much pain, she was carried off the stage in tears. 
Rob Lake – Magician – Rob's dad is disappointed that he pursued show business instead joining the family furnishings business. Simon wasn't impressed the first time around. With fellow magician Shin killing it on stage, Rob has to step it up. A female assistant appears and chains him up. She's on a separate platform. Presto chango–they switch places. This time, Simon is VERy impressed, but he feels the presentation is corny. Mel argues that's what she likes about it. Olivia believes he should go forward and will fight for him. He definitely stepped it up this time. Maybe he was saving the best for later. 
Leah Mathies – Singer Songwriter – She's from Nashville and will sing "another original song." Her audition was montaged, and now her Judge Cuts performance is as well. Leah we hardly knew ye. The judges don't seem to like her songs. BYE. 
Hunter Price – Singer Songwriter –  From Georgia, he'll be singing an original song too. Uh oh. Howie buzzes him. The judges don't like his song either. Wait. Didn't the judges interrupt the Bryan Adams song he covered during his audition, insist he do an original, and then smother him with over the top praise? (Spoiler alert: Yes they did). And now they totally dismiss him? Pretty cruel how production sets up some acts, only to eventually toss them aside.
Joseph O'Brien – Singer Songwriter – ALSO a singer songwriter. His thing? He's never been kissed or been in a relationship. Probably TMI. For his audition, he performed "Hello" and impressed the judges.  This time he's singing "I Can't Fight the Feeling" by REO Speedwagon. CORNY. It's another ballady piano driven arrangement. Simon stops him. "I think you're overthinking it." Joseph admits to being nervous and offers to sing an original (as if that would be less nerve wracking?). It's actually a decent song. Mel believes he has more to give. Olivia promises to push for him. Simon likes his fighting spirit.
https://www.youtube.com/watch?v=LgbOugppfqQ
Vicki Barbolak – Comic – A forty something comic still trying to make it, her kids speak about growing up poor, but with a lot of joy in the house. I'm not really laughing at her jokes? But I like her personality. "I love you so much," says Olivia. She's Heidi's favorite comedian this year. Howie calls her humble and relatable. "I think you are beautiful," he says. "The minute you walk on you have this great energy," says Simon.
And now it's time to make the cuts! Advancing to the Live Shows:
Angel City Chorale – Olivia's Golden Buzzer
Joseph O'Brien
Shin Lim
Rob Lake
The Future Kingz
Hans
Vicki Barbolak
No surprise choices on the list. I thought the 5 year old singer might make it through. Glad she didn't. Notice Simon chose the dance act with personality (The Future Kingz) over technical skills (Reyes Del Swing). I might have chosen Lioz over Hans, but that would have meant 3 magic acts (even if one is comedic). Both are kind of one trick ponies. I don't think Hans will make it past the next round, unless he manages to really mix it up somehow.
RESULTS:
Next Week's Preview: Martina McBride is next week's guest judge.