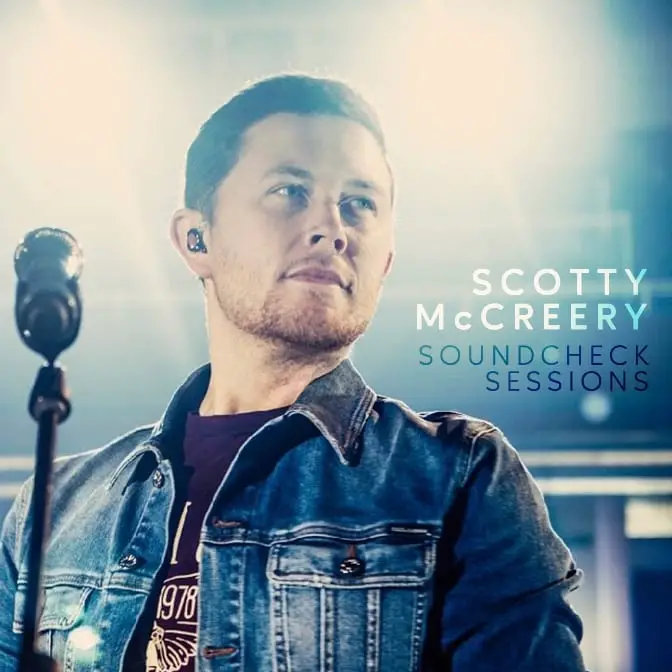 Scotty McCreery Releases Acoustic Versions of Fan Favorite Songs on New Digital EP
American Idol season 10 winner Scotty McCreery releases his first digital-only EP, The Soundcheck Sessions, today via Triple Tigers. The project features the just released track "Five More Minutes (Acoustic)," as well as previously released tracks "In Between (Acoustic)" and "This is It (Acoustic)." It also includes the bonus track "Still (Acoustic)" due to strong fan demand." The Soundcheck Sessions was produced by Nathan Thomas, Scotty's longtime bass player.
The music video for "Five More Minutes (Acoustic)" debuts today on iHeartCountry station sites and country.iheart.com at 9:00 AM (EST). The video was directed by Jeff Ray, who also directed the original "Five More Minutes" music video, which peaked at No. 1 on The CMT Hot 20 Countdown.
"It's no secret that 'Five More Minutes' is my favorite song I've ever written," said Scotty. "I announced that on Twitter that very day, and I've stated it frequently. That song was inspired by my grandfather and we wrote it two weeks after he passed away. It was fitting that it became my first No. 1 hit. I knew if I was doing a collection of acoustic performances that 'Five More Minutes' had to be included."
Written by Scotty, Frank Rogers and Monty Criswell and produced by Rogers, the poignant "Five More Minutes" was the North Carolina native's first No. 1 hit on both the Mediabase / Country Aircheck Country Singles Chart and the Billboard Country Airplay Chart and was just certified Double Platinum by the RIAA. It earned Scotty a BMI Award (his second of three) for writing One of BMI's Top 50 Country Songs of the Year in 2018, the same year it was named One of the Top Ten Songs We Wish We'd Written by the professional membership of the Nashville Songwriters Association International (NSAI). The track was the first single from the ACM and CMT Award winner's album Seasons Change, which debuted at No. 1 on the Billboard Top Country Albums Chart.
"Five More Minutes (Acoustic)" was filmed and recorded on the stage of the Cascade Theatre in Redding, Calif. on Sept. 26 along with "This is It (Acoustic)" and "In Between (Acoustic)," during the afternoon before the singer and his band performed at the venue. McCreery is accompanied by his guitarists/harmony vocalists Jeffrey Harper and Dylan Rosson on these three acoustic tracks.
"Still (Acoustic)" Also Featured on The Soundcheck Sessions Thanks to Fan Demand
"Still (Acoustic)" was recorded in Scotty's Raleigh home, with Rosson performing guitar on the track. The North Carolina native recorded the acoustic version of "Still" for fans after receiving numerous requests for the song following the release of "In Between (Acoustic)" in November 2019. The song was written by Scotty and Aaron Eshuis.
"I usually play 'Still' alone with my guitar during my live show," said Scotty. "It always goes over well and is one of my favorite songs to do live. I was thrilled to receive so many requests for an acoustic version and I'm glad we're able to give the fans what they want."
Earlier this week, McCreery performed in Cancun at Luke Bryan's Crash My Playa on Jan. 22-23. He'll be in concert at the Palace Theater in Louisville, Kentucky on Jan. 30 and the 8 Seconds Saloon in Indianapolis, Indiana on Jan. 31.
Recently it was announced that Scotty will join Chris Young on the "Town Ain't Big Enough World Tour 2020" this spring and summer beginning in mid-May. In addition, his 2016 book Go Big or Go Home: The Journey Toward the Dream was just re-released in paperback earlier this month.