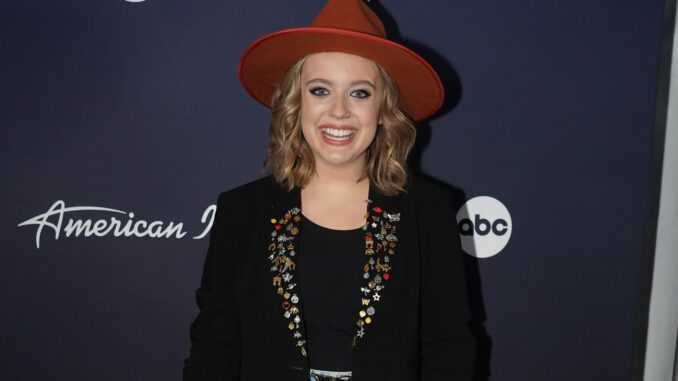 Over the weekend, American Idol 2022 2nd runner-up Leah Marlene posted an update on Instagram. After a few weeks in Nashville writing songs with her pals, the singer songwriter is back in Illinois with her family and beloved doggos.
But not for long! Leah has announced that in a few week she will be moving to Los Angeles. Also, over the weekend, she celebrated her 21st birthday.
Leah is moving to Los Angeles in a few weeks
"After a wonderful few weeks in Nashville, I'm back HOME with my beloved doggos for a few days!!!" Leah wrote on Instagram. "I wrote some tunes, met some peeps and started to get some pieces organized of this crazy post-Idol puzzle."
Before she moves across the country, Leah will be heading across the pond. "I'm going to Europe next week (whaaa!?!) and moving to LA the week after that." Additionally, the singer is "working on some show dates."
And, on Saturday (June 25) Leah celebrated a huge milesong.
"Oh and I turn 21 tomorrow. What a wild time to be alive. It has been an incredibly bizarre, exciting, frustrating, roller coaster of a month filled with all the growing pains." She added, "I know that this chapter is laying the foundation for something so beautiful to come and I am leaning into every moment of it."
Leah ended her message, with thanks to fans. "Thanks for being patient with me as I sort out LYFE. I love you guys so much! I CANNOT WAIT TO PLAY SOME SHOWS FOR YOU IN PERSON SOON!!!!"
 

 

 

View this post on Instagram

 

 
"I feel like so ready to just go out and do all the things"
In an interview with Hollywood Life shortly after the finale in May, Leah shared that she's ready to dive headlong into her music career.
"I feel like so ready to just go out and do all the things and chase this down in the real world…the next things for me are really just going to be assembling a team around me that can help me take it to the next level, and then hopefully I will definitely be releasing new music as soon as I possibly can," she told Hollywood Life. "I'm already writing and going to be writing a lot of songs."
At the time, Leah wasn't sure where she would land. "I'm definitely moving as soon as I get the chance to. I did spend a few years in Nashville when I went to school there, and I'm honestly at a crossroads. I'm not sure if I'm going to move out to LA or Nashville."
However, although the singer has settled on moving to Los Angeles for now, she expects to split her time between Los Angeles and Nashville, "regardless of where I end up."
Leah hopes to tour with pal and fellow Idol alum Fritz Hager
Leah also told Hollywood Life after the finale that she is looking forward to collaborating with her fellow American Idol alums, especially close friend Fritz Hager, who left the competition at the Top 5. "Ideally, we really want to put a tour together with us too and that'll be much more songs written on the road and stuff. You'll definitely be hearing from the duo of Leah and Fritz…there will be Leah and Fritz content. Lots of it."