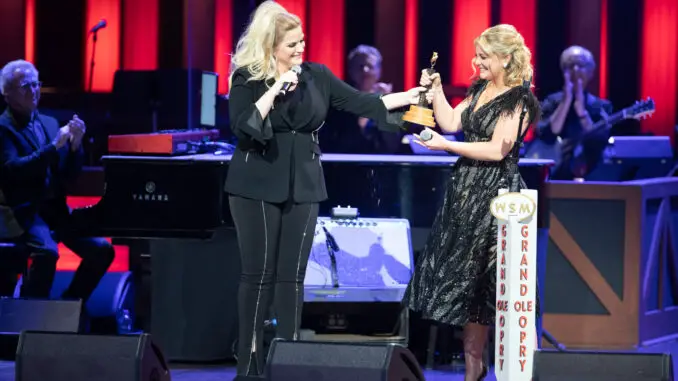 Lauren Alaina was a blubbering mess when her mentor, country star Trisha Yearwood asked the American Idol alum to join the Grand Ole Opry back in December.
But during her induction ceremony Saturday night (Feb 12), Lauren kept it pretty together, as she watched a clip of Dolly Parton congratulating her, and Trisha invited her husband, Garth Brooks, to accompany the two on guitar as the performed a duet. 
A spectacular performance from The Voice runner-up Wendy Moten
And as a special bonus, earlier in the night a runner-up on another talent show, Wendy Moten, returned to the Opry stage for the first time since competing on The Voice last fall! With her boyfriend Dave on bass (backing her for the first time!) Wendy sang Marvin Gaye and Tammi Terrell's "You're All I Need to Get By" and Tammy Wynette's "'Till I Get it Right." And she was spectacular!
But the night belonged to Lauren. She took the stage early in the hour to sing her hit single "Getting Over Him" and  her HARDY duet "One Beer, In addition to an offstage chat with Nancy Stovall. Fun fact: Nancy competed on The Voice season 13 as a member of Team Blake Shelton.
After Wendy and Lorrie Morgan performed, Lauren returned to the stage to sing her hit song with Kane Brown, "What Ifs" before the big induction ceremony. 
Dolly Parton taped a video, congratulating Lauren
"I'm nervous for you like I'm your mama," Trisha, who has been a member of the Opry since 1999 said before introducing a congratulatory video from Dolly Parton. "Oh Lauren! It's Dolly! You and I have a lot in common," Dolly said, sitting in a big comfy chair. "We both started young. We love country music. And we love the Grand Ole Opry." She added, "I would give a million dollars if I could be there with Trisha and Garth, all the folks that love you, to get you inducted into the Grand Ole Opry." Dolly mentioned that she joined the Opry in "1968 or 69" before wishing Lauren the best of luck.
"She said my name!" Lauren exclaimed after the clip played.  Lauren was so hype, that Trisha had to remind her to stay in the circle, before complimenting Lauren on her "genuine" personality. "You are exactly the kind of artist that the Opry loves, and wants and looks for," Trisha said.
And, Trisha shared, the entire Opry family is rooting for Lauren–from the guys who park the cars, to the musicians and crew. "Everybody tonight has said 'she's so deserving, it's about time'."
Before handing over the official Opry statue, Trisha declared, "You are now officially a member of the Grand Ole Opry Miss Lauren Alaina."
"Most little girls dream of their wedding. I dreamed of this"
Lauren held the trophy aloft and then kissed it. She described how she dreamed of this moment since she was a little girl. And then went on to share how her dad grew up playing the banjo and also dreamed of being in the Opry. "Both of my parents raised me with a huge appreciation for country music," Lauren said. "I promise to do everything I can to represent country music."
Additionally, Laurn mentioned that she is the youngest living member of The Grand Ole Opry, and "That's pretty cool!" She added, "Everyone at the Opry has always made me feel like family. For me to finally be officially in is the biggest dream come true of all time."
She said, "Most little girls dream of their wedding. I dreamed of this. Hopefully now I can have a wedding too, and we'll be set! God bless you guys, and God bless country music."
Garth Brooks joins Lauren and wife Trisha on stage
To cap off the night, Trisha and Lauren joined forces on Trisha's song "Walkaway Joe." But after claiming that she gave the band the wrong key, in which they rehearsed it, she suggested her own guitar player come out and accompany them on an acoustic version. But instead of Trisha's regular guitar player, out came her husband, country music superstar Garth Brooks!  
It took Lauren a bit to find her bearings, but the two sang a lovely version of the song. Lauren ended the night with "Road Less Traveled" her first No 1 song on country radio. "Before I get out of here tonight, I'm going to soak it up!" Lauren said happily. She got the crowd to light up the audience with their smartphones. "This is the most magical night ever," Lauren gushed before leaving the stage, clutching bouquets of roses. "Thank you guys so much, God Bless You."
Opry Live with Lauren Alaina, Wendy Moten and Lorrie Morgan. Plus Trisha Yearwood & Garth Brooks
00:00 – Lauren opens with "Getting Over Him"
4:25 Lauren performs "One Beer" her song with HARDY. Nancy Stovall offstage interview
23:47 – Wendy Moton performs. DON'T MISS THIS! Her boyfriend Dave backed her up for the first time ever, she told Nancy off stage.
34:44 – Lauren back on stage to sing her Kane Brown hit "What Ifs."
40:42 – Trisha inducts Lauren into the Grand Ole Opry. Speech!
49:53 – Trisha & Lauren perform "Walkaway Joe" with Garth Brooks. Lauren ends the night with "Road Less Traveled"
Welcome to the family, @Lauren_Alaina ?? pic.twitter.com/thENX0V1ce

— Grand Ole Opry (@opry) February 13, 2022