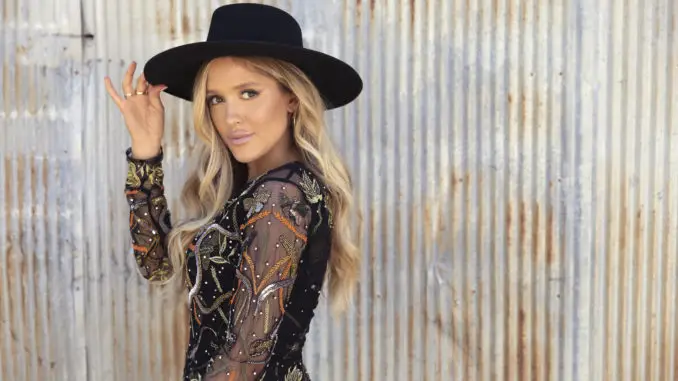 Laci Kaye Booth has her heart on "shuffle" with the music video for her debut single. Giving fans a first look via CMT on Wednesday, the playful video shows the country singer in a record store, losing herself in the pure joy of listening to her favorite music.
"This video is the perfect story of a girl whose heart is on 'Shuffle,'" Laci shared with CMT about the clip directed by Chris Beyrooty. "She works in a vintage record shop, and she's surrounded by so much music. She starts out listening to music via record players, then AirPods, then cassette tapes, all while trying to keep from being distracted by alluring male customers. She dreams of performing her own song. At the end of it all, she is serenaded by her co-worker who knows that her one true love is music."
Seeing the video come to life feels "unreal," Laci said, and reminds her of the day she was inspired to write "Shuffle."
"It wasn't long ago that I was driving in my car and had just a small idea for this song," she explained to CMT. "Now I get to watch it all played out. It feels like someone should pinch me. Paying homage to the strong women who've influenced and inspired her, Director Chris Beyrooty gives a nod to the lyrics, which Laci co-wrote alongside Derrick Southerland and Sam Ellis.
Laci Kaye Booth 'Shuffle" Music Video
"With this video I hope people can see how much I admire and appreciate music of all eras and of all forms." Laci told CMT. "I am an artist, but most importantly I'm such a fan of music at heart and I hope that's something that's visible and that I can share with my fans. I could've never made it to this point of my life without the incredible influence of the women of country music."
As one of the newest members of CMT's Next Women of Country Class of 2022, fans came to know Laci on the American Idol stage, where she finished season 17 in fourth place. The Nashville-by-way-of-Texas singer reintroduced herself in 2021 with her self-titled collection out now via BMLG Records/19 Recordings.
After the American Idol season ended in May 2019, Laci moved to Nashville to write country music. After meeting with Scott Borchetta and Jimmy Harnen of Big Machine Label Group, she signed a label deal with them and began working with producer Dan Huff.