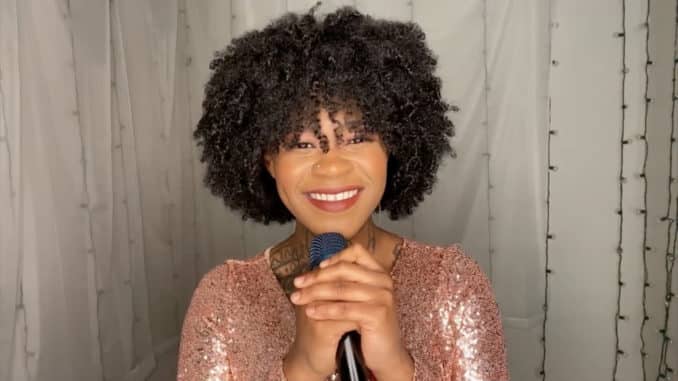 American Idol winner and New York City native Just Sam quarantined in Los Angeles while competing in remote episodes of the show. The singer said she stayed on the west coast to keep her elderly grandmother who lives in a Harlem project safe.
But, when Sam finally headed back to New York City last week, she took to the streets to join the Black Lives Matter protests. Folks all across the country have been protesting for change after a Minneapolis cop knelt on George Floyd's neck until he suffocated. Additionally, in March, Louiseville cops busted into the home of Breonna Taylor on a warrantless arrest and killed her.
Not only did Sam march, but she performed in Union Square with a fellow New York City singer, Denise Weeks. Sam posted an Instagram story that included snippets of her performance. She and Denise sang several songs including "A Change is Gonna Come."
Here's Sam marching through the streets of New York City. "It's so good to be back in New York City, man," Sam says, "With my FAMILY!" As Sam videos the march, her fellow protesters yell slogans such as "White silence is violence!" and "No justice, no peace." She's got her mask pulled down. I hope Sam is staying safe out there.
https://www.instagram.com/p/CBCGMAJJoVw/
Sam also posted a throwback photo with a caption that shares how she feared cops. But eventually, she joined an NYPD program that helped underprivileged kids like Sam. "I was fortunate to be apart of a team that wanted to help kids like me instead of beating and arresting us," she wrote. "Thank you to all the cops out there that are actually trying! Thank you to the cops that were good before we asked them to be."
Believe it or not, at this point In my life (in this photo).. I had a fear of cops. I feared that I would end up like my mother .. in jail.

At this point in my life, I had already had an experience where a cop tried to arrest me at 13/14 years old for no reason and told me that he would spit in my face while stepping on my head to hold me down. I was crying and very afraid and of course I screamed for my grandmother, but they didn't care because I was black and in the projects .

This photo was after having some of the WORSE run ins with cops. This photo was taken after years of seeing my friends and family hurt by cops . I told myself that I would be looking out for the outside while on the inside.

Fortunately, I was apart of a team that looked out for me because I was the only female in this program.
 

 

 

View this post on Instagram