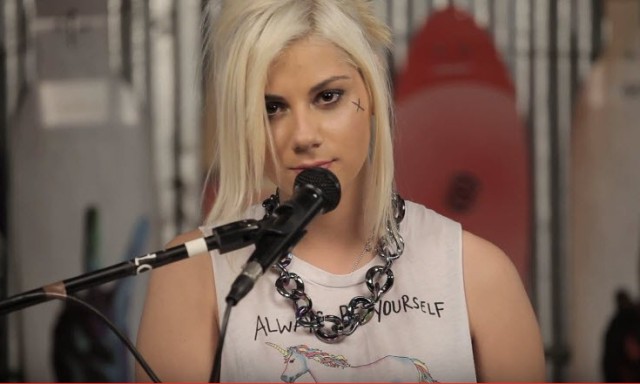 In an interview with New Jersey radio station 101.5, American Idol singer Jax delivers the startling news that she has thyroid cancer and has been undergoing treatment:
"The last couple of months I've been going through a lot. I was diagnosed with thyroid cancer," the 20-year-old East Brunswick resident, who finished third on American Idol in 2015, told New Jersey 101.5's Bill Spadea.
Jax has thyroid cancer

Jax, whose real name is Jaclyn Cole Miskanic, said she began feeling symptoms as she prepared for her Webster Hall show last spring.

"I was going through a lot, traveling a lot, living out of a suitcase. But I was waking up tired a lot, losing my voice and just kind of depressed and in a really dark place. My parents knew something was up because if wasn't normal," Jax said.

While she was grocery shopping, she said, she felt felt a lump in her throat and decided to get it checked out.

"But I'm like a bro when it comes to going to the the doctor, and I let it go, she said," When she did seek care, she went to an urgent care facility, at her father's urging.
The doctor at the facility didn't believe it was serious, but gave her a prescription for an ultrasound just in case. The singer was She was eventually diagnosed with Hashimoto's disease, a condition in which one's immune system attacks the thyroid. It is most common in middle-aged men and women but can affect any age. A couple days after performing a concert at Webster Hall last spring, Jax learned from her parents that doctors had found 18 tumors on her thyroid. A biopsy showed 12 were cancerous.
Jax shares her American Idol Journey in "La La Land" VIDEO
Cancer runs in her family, said Jax. Her grandfather had thyroid cancer, and the surgery to remove his tumors cost him his voice. So far, thankfully, Jax' successful treatment has left her vocals intact, although perhaps altered a bit.
Telling her story, Jax was still smiling.

She called her doctor "cute." She remembered how, as she was being put under anesthesia, he played Queen's "Fat Bottom Girls."

The surgery was a success. All of the cancerous tumors were removed. She'll still need more tests and possibly treatments. She's still undergoing iodine treatment.

"I'm radioactive right now," Jax said.

The surgery left her with a scar at the base of her neck she describes as a "shark bite." Jax said her voice feels "raspier," and left her and afraid to hit certain notes.

"But I think it will all go back to normal," she said.
Jax hasn't allowed the diagnosis to slow her down. She's been writing songs and training for the TCS NYC Marathon on Nov. 6. She'll run on behalf of Tuesday's Children, response and recovery organization that supports youth, families, and communities impacted by terrorism and traumatic loss, formed in the aftermath of the Sept. 11 attacks. It will be the singer's first ever marathon.
Get well soon, Jax!
UPDATE: To donate to Jax's marathon run, click on the link:
Thanks for the love! You guys should all definitely donate to my team! https://t.co/aG7Sunyhcq https://t.co/H5V0MXGKkS

— JAX (@Jax) August 8, 2016
Via nj101.5.com