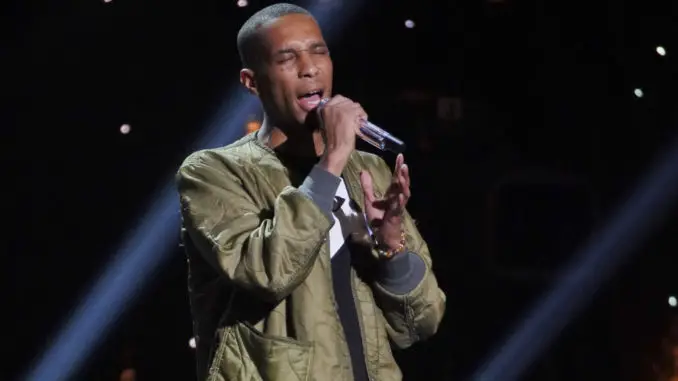 Two years after competing on American Idol in 2019, Dimitrius Graham speaks up to literally say "F*** American Idol." No, really. He posted the words on Instagram yesterday. White letters on a black background. See it here.
Those three words were just a tease for what is specifically on Dimitrius' mind. The singer competed on season 17 of the show. He left the competition during Top 10 Disney week, with Uche, ahead of the Top 8. The judges saved him at the Top 14, but then he was eliminated the following week.
Dimitrius hasn't posted much on social media. But obviously something specific has been eating away at him for the past two years. In his next Instagram post, the singer lashed out at American Idol producer Patrick Lynn, who has worked behind the scenes at Idol for years.
According to Dimitrius, Lynn criticized his face tattoos, using a word that many folks consider racist.
"I will be forever scarred because of this horrible man's behavior"
"The other day I woke up bussed out crying because all I can could remember replaying in my head this guy @patrickmlynn told me while I was in the competition that my face tats was ghetto and then googled ghetto face tats and showed me pictures of Inmates with face tats," Dimitrius wrote, alongside a photo of Lynn, "I could never make this up and I will be forever scarred because of this horrible man's behavior, I kept quit [sic] for a long time in fear of my carrier [sic] but tbh f*** it I want everyone that looks different for any cultural reason to know that you are beautiful and today I tell myself every morning that I love my face tats love y'all."
I think the key phrase here is how he feared for his career. But it probably dawned on the singer that two years later, he didn't really HAVE a career, so why not bare his soul and maybe go viral? I don't want to make light of Dimitrius' hurtful experience. If Lynn actually called his tats "ghetto" to his face that's incredibly insensitive at best and racist at worst.
There is a difference between explaining to a contestant that he might consider covering up tattoos, because it could keep some folks from voting for him. But there is a way to be practical without being offensive. 
Dimitrius' American Idol performances
Dimitrius collaborated with Lukas Graham for his Top 20 duet. They sang "Love Someone"
Dimitrius sang Billie Eilish's "When the Party's Over" for his Top 14 wildcard performance. Judge Luke Bryan saved him. One thing that put Dimitrius at a disadvantage: Idol didn't air his audition. Fans didn't see him until Hollywood Week. 
Dimitrius got a hug from judge Katy Perry after performing "You'll Be in My Heart" for Disney night. He left the show later that night.
On the finale, Dimitrius paired up with Adam Lambert for "Bohemian Rhapsody." Adam had mentored the contestants at Top 8 for Queen Week. Later that night, host Ryan Seacrest announced Laine Hardy as the winner, with Alejandro Aranda coming in second place.