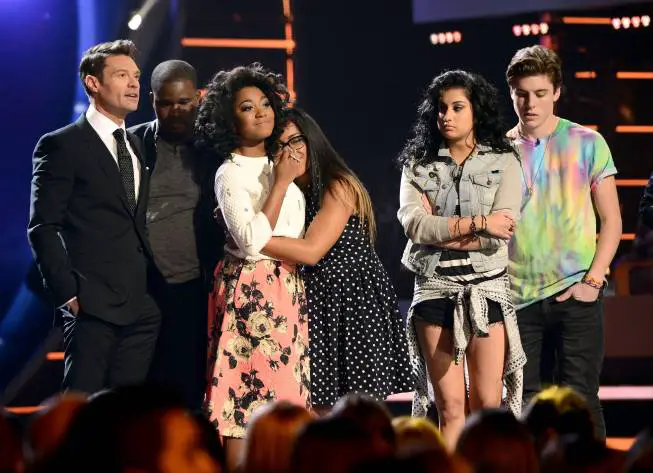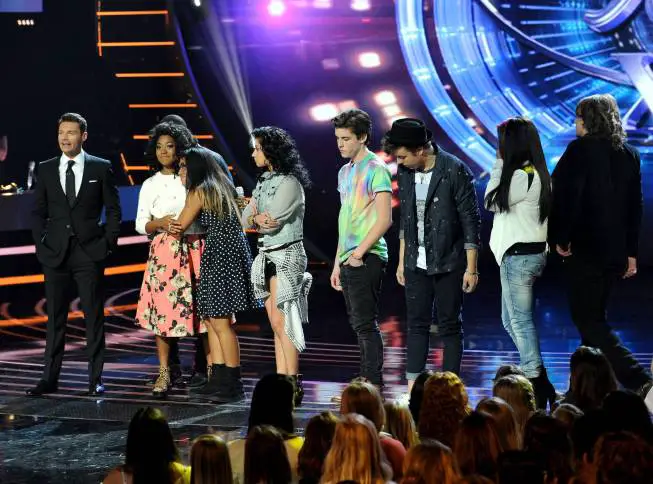 Majesty Rose had the lowest number of votes. The judges chose NOT to save her.
I said yesterday that the judges would probably save Majesty if she got the lowest number of votes. I think they WOULD have saved her if she had pulled out an incredible "save me" performance. But she crumbled on stage–shifting into manic mode as soon as she knew she would have to sing. That performance was cray–with Majesty flouncing all over the stage–breathy, pitchy, off beat and desperate. It was a signal that she could not handle the competition. Another setback would have probably sent her back into a downward spiral. And there's no use saving a contestant like that.
She was a front runner once. She simply didn't know her own limits, or what worked best for her voice. Her insistence on singing big belty songs that weren't in her range or wheelhouse was her problem. When the feedback from the judges stopped being good, and she ended up in the bottom 3, she completely lost her mojo. It's too bad, because she actually has some star power, which is more than I can say for some who might actually get that save if the time comes coughdextersamcough. I'm going to miss those flowers in her hair and her quirky ways. Majesty will be a lot of fun on tour, I'll bet.
The 30 minute results show is working out pretty well! It's too bad production ran out of time and Majesty didn't get her goodbye video package. We'll never know her take on "Breakaway." Oh well.
The remaining contestants: 3 girls and 5 guys. Some things never change. To be honest, I would have rather said goodbye to Sam Woolf or Dexter Roberts. Majesty had her problems, but she was never boring.
I'll be live blogging the American Idol Top 9 Results right here! So stay tuned. It's going to be a quick one–the results show tonight is only 30 minutes, and will stay that way for the next 8 weeks, unless the new FOX show, Surviving Jack tanks…
Janelle Monae performs tonight!
Oh. look. Ryan got his shoe back just in time for bad puns! "The shoe drops tonight…for someone on American Idol!"
Randy's back with his thoughts. Do you care? His top favs: Caleb Johnson, Malaya Watson and Jena Irene.  'The cream is starting to rise to the top" he says, "The other 6…time to catch up if you want to win this."
Ryan will reveal who is safe via the BIG SCREEN. Hm. The first person safe tonight is…and there's Jena Irene's surprise face on the screen. Malaya Watson is next. The next person is…after the break and a performance from Janelle Monae.
Janelle Monae performs "What is Love" from the Rio 2 soundtrack. So, this is some kind of synergistic promotion of the movie. A Twentieth Century Fox production, no doubt.  I love Janelle, though. She's pretty awesome, and a great performer.
Fifteen more minutes, and we'll have our eliminated contestant! Or saved.
Chris Meloni and Rachel Harris, from Surviving Jack are in the audience to pimp their show, premiering after Idol!
More results! Alex Preston is safe! Jessica Meuse is safe! Caleb Johnson is safe!  One is safe, and the others are bottom 3, says Ryan. In case we don't understand simple math.  DEXTER ROBERTS IS SAFE.
Harry brags that the decisions America is making are are all performance based. That's right, because the viewers left watching Idol aren't as invested as they used to be! In years past, fans would save their snowflakes no matter what. That investment is what drove idol. The lack of that passion on the part of viewers is why the ratings are in the tank. Not something to brag about, really.
Jennifer felt one of the singers was much better when she watched it back. She refuses to say who it is. Hm.
Ryan suddenly names Majesty Rose is the lowest vote getter.  She is a little startled. "Alright! Let's do it! Where's it at! Where's it at!" she shouts. "I knew it!" Oy. She sings "Happy" as her save me song.  Will the judges save her? For the very first time, I feel like the judges might use it.  But poor Majesty is completely manic in this performance.  She does not sound good. She's breathy, pitchy, nervous and DESPERATE. Her timing is off. She's straining on the high notes. She ends with a "YAY!!!" and a crazy spin. She's losing it. I feel for her.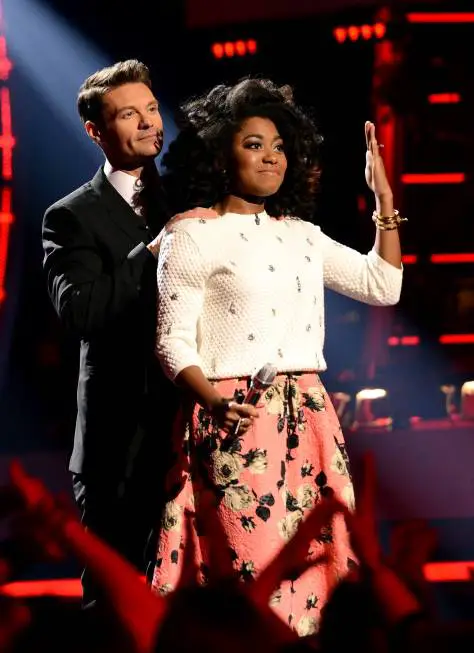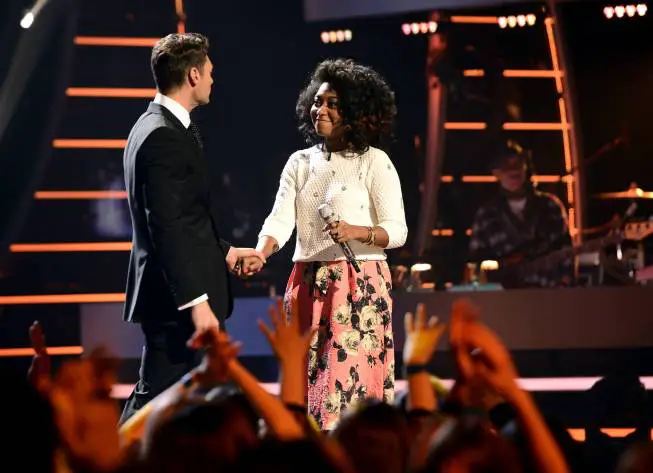 Keith says it's been the hardest deliberation so far. The crowd is shouting "SAVE HER SAVE HER SAVE HER."  They agree by a narrow margin NOT TO USE THE SAVE! I get it. She's been dwelling in the bottom for weeks. And she's lost her nerve.  After narrowly escaping elimination, would she have been able to recover emotionally?
Ah. With the 30 minute results show, no more goodbye video? We'll never hear Majesty sing "Breakaway."
The judges decide NOT to use the save on Majesty Rose. She is eliminated
Majesty Sings for the Save
Majesty Rose's Idol Journey

Final Results & Elimination (Top 9) – American… by IdolxMuzic
SAFE
Jena Irene
Malaya Watson
Alex Preston
Jessica Meuse
Caleb Johnson
Dexter Roberts
CJ Harris
Sam Woolf
Bottom 3
Majesty Rose
CJ Harris
Sam Woolf
Quick Poll! Should the Judges have Saved Majesty Rose?