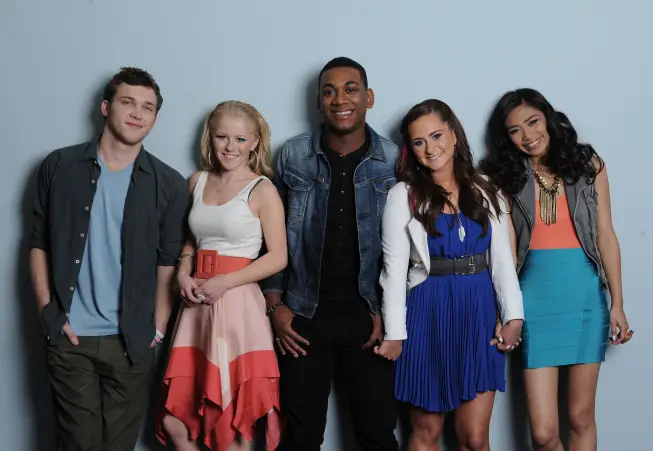 The Walmart Exclusive American Idol 11 studio performance EPs are available today. For more information and track listings Click This Link.
Never before released duets and trios are featured on American Idol Season 11 Duets and Trios Highlights. Plus, each of the Top 5–Skylar Laine, Hollie Cavanagh, Joshua Ledet, Jessica Sanchez and Phillip Phillips have their own compilation. Each compilation includes one of the new duets.
Listen to full streams of the new songs below. I added a little mini-review for each track. What do you think? Will you be purchasing the EPs?
Joshua Ledet & Phillip Phillips – You've Lost That Lovin Feeling – I still can't get the image of an embarrassed Joshua and Phil singing this classic tune, unable to figure out a way to make it work. IT'S NOT A LOVE SONG BETWEEN THE SINGERS GUYS. YOU CAN CALM DOWN NOW. Good times! They still sound kinda awkward here. These two were never meant to sing together.
Hollie Cavanagh & Deandre Brackensick – I'm So Excited – When Hollie sang this on stage with Deandre she still hadn't found her mojo and it was awkward. But as always, her recorded voice is awesome, and sound beautiful together here.
Skylar Laine & Colton Dixon – Islands in the Stream – I found it hilarious that Idol producers paired up Skyler and Colton to sing country songs. The fake shipping was even funnier. Colton has no feel for the genre, but I do give him points for trying.
Phillip Phillips & Elise Testone – Stop Draggin My Heart Around – Phillip and Elise both have raspy vocals that lend themselves well to classic rock. The recorded version of "Stop Dragging My Heart Around" highlights the best aspects of each of their voices. Very soulful and sexy. I hope we get a Phillip/Elise duet on tour!
Joshua Ledet and Jessica Sanchez – I Knew You Were Waiting For Me – One of the better duets from Season 11, Joshua and Jessica sound fantastic together on the recorded version. This was a perfect song choice for them.
Jessica Sanchez, Hollie Cavanagh & Skylar Laine – "Your Love Keeps Lifting Me Higher" – Skyler sounds more nasal than usual here, but otherwise, nice job from the girls. No one can re-create the excitement from the original Jackie Wilson version, which is why I typically don't care for covers of this classic.