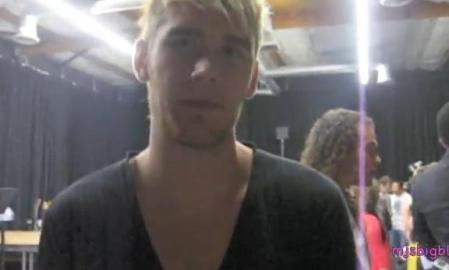 Colton Dixon  said he was definitely going the Christian route with his music. He has been in talks but nothing has been decided yet, as far as a record deal. He has written over 11 songs since the show ended. He has three solos. One popular one from the show (he asked fans which was their favorite, my money is on "Piano Man"), one rock song that wasn't done on the show but everyone should know it, and one song we have never heard. I asked if it was an original and he could neither confirm not deny. No duets for him, he seemed relieved.  But he's looking forward to the group songs! 'They are so much fun."  He's really into the cheese!
Also, Colton mentions that each of the Top 10 will design their own piece of jewelry for merch, with proceeds going to a charity of the Idol's choice.
Skylar Laine has two solos, both upbeat. I believe she said they were both from the show. I asked about the trio, with Jessica and Hollie. that was talked about online. It ended up becoming a duet between her and one of those other girls (she would not name which) because it was not working out. She's been writing and will be recording some demos to "shop around." Poor girl had been up since 1:30am, she was exhausted.  After the tour, she wants to take a relaxing vacation. She plans to take her guitar and her phone on tour. She won't be playing guitar in concert, but does plan to take some lesson's with the band's guitarist!