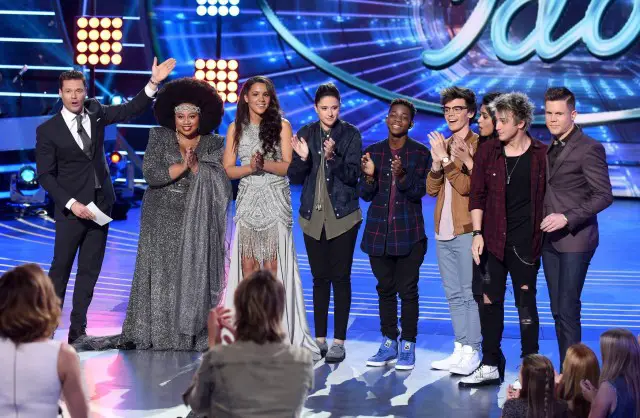 Top 8 contestants are revealing American Idol song spoilers on twitter in a game of "if you guess my song I'll return it." So far 3 contestants have spoiled their songs, but I'm sure more will be on the way.
If this week is the same as last week, safe contestants will perform first and the bottom 3 will perform for the judges for a save. Two contestants will be eliminated.
Check out the choices so far. In keeping with the spirit of the theme which is "The American Idol Songbook" aka, The most performed songs in the history of the show, I'll list the other contestants who performed each tune (Via WhatNotToSing.com).
Dalton Rapattoni – Eleanor Rigby by the Beatles – David Cook (S7), Michael Lynche (S9), Paul Jolley (S12-eliminated)
Avalon Young – (PYT) Pretty Young Thing by Michael Jackson – Justin Guarini (S1), Danny Gokey (S8)
Tristan McIntosh – A Broken Wing by Martina McBride – Diana DeGarmo (S3), Jessica Sierra (S4), Jordin Sparks (S6) (She sang it twice, including the finale)
MacKenzie Bourg – You Are So Beautiful by Joe Cocker – Taylor Hicks (S5). Danny Gokey (S8), Jessica Sanchez (S11), Rayvon Owen (S14)
Trent Harmon – Stand By Me by Ben E. King – David Archuleta (S7), Bo Bice (S4), Danny Gokey (S8) and Phillip Phillips (S11)
Sonika Vaid – I Have Nothing by Whitney Houston – Trenyce (S2), Leah Labelle (S3), Jennifer Hudson (S3), Vonzell Solomon (S4), Katharine McPhee (S5), Lakisha Jones (S6), Shannon Magrane (S11), Jessica Sanchez (S11)
Lee Jean – Let it Be by The Beatles.
La'Porsha Renae – It's a Man's Man's World? (via a snip of music on Snapchat) Come Together by the Beatles (via La'Porsha's twitter.  That was wasn't confirmed, hence the question mark.)  – Carly Smithson(S7) , Kris Allen (S8) , Crystal Bowersox (S9), Candice Glover(S12) , Sam Woolf (S13), Qaasim Middleton (S14)
UPDATE: The Idols will also be singing duets on Thursday. I suppose that's in lieu of guest performers.  The contestants Snapchatted the pairings.
Duet Pairings:
Trent Harmon and La'Porsha Renae – Photo – See You Again by Charlie Puth
Tristan McIntosh and Lee Jean – Photo – "I Don't Want To Miss A Thing" by Aerosmith (DUCK! AN ASTEROID IS COMING! Inevitably) – Josh Gracin (S2), Lindsey Cardinale (S4), Antonella Barba (S6), David Cook (S7), Allison Iraheta (S8), Aaron Kelly (S9), Jessica Sanchez (S11), Caleb Johnson (S13)
Sonika Vaid and Avalon Young – Photo – Rise Up by Andra Day
Dalton Rapattoni and MacKenzie Bourg – Photo – I Want it That Way by The Backstreet Boys