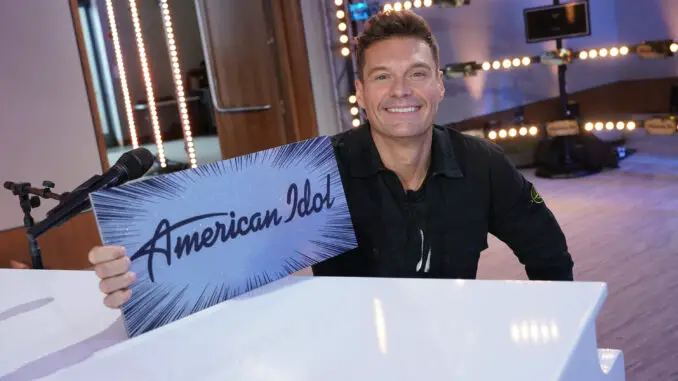 On Sunday's American Idol episode, in between the Top 7 performance and Top 5 reveal, host Ryan Seacrest announced that auditions for NEXT season are NOW open! It appears that ABC has renewed the veteran singing show for a 21st season, and the 6th season on the network. However, don't expect an official renewal announcement until next week, when the ABC Upfronts presentation to advertisers takes place in New York City on Tuesday (May 17).
Singers who were born between June 2, 1993 and September 15, 2007 are eligible to sign up for virtual auditions at ABC.com. The link at the website leads would-be auditionsers to a sign up portal.
Former contestants other than winners are eligible to audition again
The online Terms and Conditions haven't changed from last season. Any previous contestants who are age-eligible can audition again, except for previous winners. The rule states "You are ineligible to participate in the Program if you competed in any previous season of American Idol and placed first in the Competition."
Last season, Idol fans made a big deal of this rule change that allowed all non-winners to audition. This, in light of American Idol bringing back the runner-up from 2020, Arthur Gunn, to compete in a special "comeback" competition with other Top 20 contestants from season 18. Would American Idol regularly bring back finalists and semi-finalists to compete again?
So far? No. The few returnees whom Idol featured on the show this season, like Top 24 contestant Jacob Moran, left the competition at the Hollywood rounds in their previous attempts. It seems unlikely that American Idol would re-cast a Top 10 contestant, for instance. However, producers  probably want to keep their options open.
Contestants must also be a legal United States resident and "…this means that you must either : (i) have the
unrestricted right to work in the United States; or (ii) possess the appropriate United States
employment authorization that permits you to participate and compete in the Program and engage
in any post-show agreements and related employment." Canadian citizens like Nicolina Bozzo, for instance, can't just cross the border and audition without proper papers.
Contracts and Conflicts!
Additionally, hopefuls can't be bound by any contracts that would keep them from signing agreements like recording, merchandising, touring and publishing contracts with Idol's group of 19 companies. Prior management and booking contracts are allowed, but contestants are not permitted to sign contracts while competing on the show.
Additional requirements include conflict of interest rules. Remember season 19's Hunter Metts being unable to audition in 2020 because his sister worked at a Disney Park? Like that. The document also explains the requirements for uploading audition videos to the portal. Read the entire document HERE.