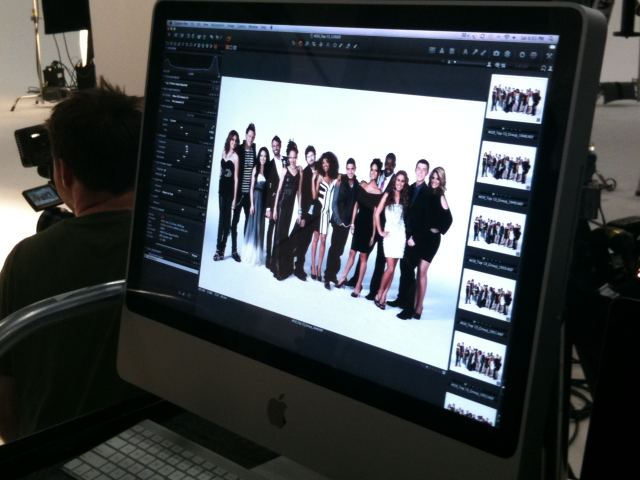 Today's twitter pics from the Season 10 Idol reveal the 13 spent the day tracking audio for the Ford commercials and posing for official photos.
Scott McCreery tweeted, "800 am to 800 pm day today. Nonstop interviews and photoshoots, and nice recording for the Ford music videos this morning.. Makes for a great day, but also a very tiring day. I hope you all had a wonderful day as well. Love yall so much!"
Check out more photos after the jump…
@PaulMcDonald: "All the lovely ladies tracking one of the Ford songs!"
@AmericanIdol: "Earlier today the #AI10 idols recorded tracks for the upcoming Ford music videos. Check it out…"
@AmericanIdol: "@SLangoneAI10 and @PMcDonaldAI10 signing their first #AmericanIdol autographs. Congrats guys"
@AmericanIdol: "@CAbramsAI10 getting a touch up before the #AI10 group shot"
@American Idol: "@LAlainaAI10 and @TMegiaAI10, our youngest #AI10 ladies are ready for their close-up at the Fox Top 13 photo shoot"
@AmericanIdol "@NAdedapoAI10 and @AJonesAI10 look FIERCE even when taking a break"
@AmericanIdol: "Stand up and SHHOOOOUUUTTT @JDurbinAI10. Haha!!"
Founder/Editor
at
mjsbigblog.com
Founder and editor of mjsbigblog.com, home of the awesomest fan community on the net. I love cheesy singing shows of all kinds, whether reality or scripted.I adore American Idol, but also love The Voice, Glee, X Factor and more!
Latest posts by mj santilli (see all)