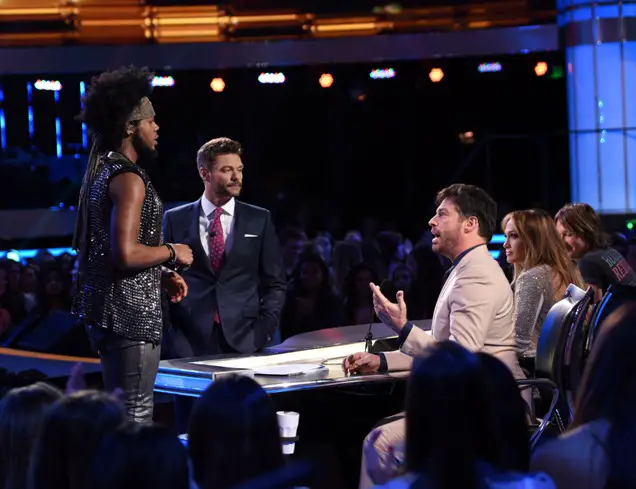 American Idol Recap Top 7 2015 Season 14 Live Blog
The American Idol 14 Top 7 perform 2 "American Classics" songs in this jam packed two hour episode! At the end, two contestants will face off for YOUR twitter vote. We're live blogging the performances RIGHT HERE.
Click for American Idol Top 7 Song Spoilers
*Note: The contestants only recorded ONE song apiece for iTunes.
Ryan's already got the results in his hands! No special guests tonight. We'll be flying through 14 performances in two hours. He introduces "three really big superstars" Keith Urban, Jennifer Lopez and Harry Connick Jr. Alrighty then.
Tyanna Jones – Why Do Fools Fall in Love by Frankie Lymon & the Teenagers – Scott was concerned that she wasn't engaged with the radio people who came to visit. She has to be engaged! She was just too nervous on the day of performance to pay attention. I'll bet when Taylor Swift was 16, she would have had her game face on even if her kitten had died. This slowed down arrangement is lacking energy. She needs to pick up the pace! Where is the peppy Tyanna that we know and love? This could have been an opportunity for Tyanna to show off her youthful exuberance. There are also some pitch problems here. She's usually really great with the uptempos. I wish she had sung it at a faster pace. Keith thought it was an "interesting" song choice. He doesn't think it showed off her voice. He wants more edge. Jlo felt it was a "taste of the early Tyanna. She's thinking too much. Harry wondered if she saw Frankie Lymon's version. NOPE. She should have done some research. He notes his groove. He wishes she had incorporated more movement. Tyanna says she agrees with the judges assessment.
Clark Beckham – Superstition by Stevie Wonder – Clark tells Scott that he had never looked too far ahead performance wise. Now he can actually see the finish line. The song opens with Clark scatting against licks he noodles on his electric guitar. Interesting. But once the band kicks in, the performance feels messy and he's ornamenting too much. I think I even heard some pitch problems in there. Mostly, though, I didn't need to hear this song covered again. I'm experiencing "Superstition" burn out. Jlo likes this week's outfit. "It was funky, the band sounded amazing. Harry felt he played the guitar a whole lot better this week. Keith loved the scatting with the guitar. Keith suggests he drop where he holds his instrument. He'll move differently. HA Keith is wearing a Harry Connick Jr. T shirt! His dad is his Idol! He played a strat like his father's. They flash a photo of dad playing guitar. He was really good looking! – Download from iTunes
Jax – Piece of My Heart by Janis Joplin – Jax tells Scott that she wants to make music that moves people. He thinks it's a good thing to be polarizing. Not if you want to win American Idol, bub. The wind machine is working! She sings the song the way it was intended. Super bluesy. The thing she doesn't realize. She's so unique already, she doesn't have to change things up radically to make a song her own! Her phrasing here is really cool–kinda growly and jazzy all at once. Her timing and adlibs are impeccable. Good job Jax! Harry really likes her arrangement. He loves her timing. "It was great Jax!" says Jlo. Jennifer loves when Jax rocks out. Jax says the wind machine made her feel girly. – Download from iTunes
How is this going to work? Are we going to know halfway through the show which singer will face off for the save? That's kind of awful for the singers waiting, isn't it? They've got to get through one song and then another.
Nick Fradiani – American Girl by Tom Petty – Nick makes no bones about it. He wants to win. That's a refreshing response. Screw being humble. Scott sees a "nice arc." Nick is more comfortable than ever. This is kind of a Tom Petty knockoff, he doesn't do much to put his own twist on the performance. Having said that–it's a good song choice for his vocal abilities. He sounds good. and it's obvious he's feeling good and energized–as if he's suddenly woken up. He attacked that song as if it were already the finale and he was going for the gold. Keith enthused 'That was such a good song for you!" Jennifer comments on his "radio ready voice." Jlo loves his growth. Harry suggests that he remember what he did tonight and do it again. Oh. Nick is getting the "peaking at the right time" edit. He is also obviously one of Scott's favorites. – Download from iTunes
We find out after the break who is in the bottom two.
Quentin Alexander – Are You Gonna Go My Way by Lenny Kravitz Quentin tells Scott his biggest competition is himself. "Great answer," he says. Like Nick, Quentin isn't really bringing anything new to the proceedings. I'm used to him "Quentinizing" songs, and I miss that! Still, that was a departure from the usual for him. So kudos for stepping out of the box. He works the stage like a pro, and looks might foine. Jlo thought it was a perfect song for him. Still pitchy moments, but the performance makes up for it. Harry loves his artistry, but he was captivated by the band more than Quentin. He agrees with me! It didn't deviate enough from Lenny's version. Keith liked that he was laying back while the band went full on. – Download from iTunes
Oh. Quentin is VERY upset over the bottom two. "Two of the best singers in the competition are left…this is wack." Joey is his best friend, and he's sad. Oh. Harry did not like that! He calls Quentin's remarks "highly disrespectful." Quentin explains he's criticizing the situation, not the show. "What's wack? It's a competition!" says Harry. Oy. That was really awkward. And honestly…Harry could have saved that outburst for a backstage chat. In Quentin's defense–he allowed his emotions to get the best of him. It happens. Harry TOTALLY over-reacted to that.
Joey and Rayvon are in the bottom two. They will sing off for the first time after the break.
Joey Cook – My Funny Valentine – She's going traditional, with a jazz band behind her and a classy black dress. An interesting take on the song from Joey, but it's tough when you compare her to the greats who have performed the song. Harry would have loved to mentor her performance. He thinks she's smart and that she thought about the lyrics and sang it appropriately. Keith loves that her reach is often beyond her artistic grasp. She didn't quite get there tonight, but he still admires her. Jennifer liked her tone, but it didn't move her. I have mixed feelings about that performance. Joey had her moments, but the entire performance didn't quite land. Knowing she was in danger took her out of the moment, I'm afraid. – Download from iTunes
Rayvon Owen – Long Train Runnin by the Doobie Brothers – This is a pretty solid vocal from Rayvon. He's also working the stage pretty hard. Pressure seems to light a fire under Rayvon's ass and he brings it during these sing offs. But he's still pretty boring overall. Really fans? You wanted an Idol to sing this tired ass song from the 70s? I wish Joey's performance was stronger. Keith felt it was a good performance, but he wants more edge, more soul. Jlo felt that he really stepped it up. Harry admires him a lot, but he didn't like the song choice. – Download from iTunes
Clark Beckham – Moon River – Clark chokes up talking about his family's support. They believed in him, before he did. Clark accompanies himself on piano. This is a very different kind of vocal from Clark. It's a quiet interpretation. Not an adlib or run in sight. It reveals his vocal weaknesses, actually. But it's appealing. Definitely a different side of Clark. Jlo loved it. "smooth and creamy" she says. Harry would have loved to mentor THAT too. "Learn more chords!" says Harry. He wasn't crazy about the harmonics. LOL the look on Nick's face when he called Clark the only musician left. Keith compared it to an epidural? Is that a compliment? Bill Medley from the Righteous Brothers is in the house! Clark's dad played with him.
So, the twitter vote isn't until the end of the show. Rayvon and Joey will sing one more time.
Tyanna Jones – Proud Mary by Ike & Tina Turner – That was a really fun performance! Another song that I'm so sick of on competition reality shows, but Tyanna really went for it–as one should singing the Tina version of Proud Mary. Harry felt it was close to perfect. Jennifer thought THIS was a great song choice for her vocals. We got to hear her stretch and play. – Download from iTunes
Nick Fradiani – Only the Good Die Young by Billy Joel  – Nick and his dad are best friends. He's living his dad's dream. He performs a slowed up version of the song, without his guitar. I like this arrangement better than the original, to be honest. This was a smart choice for Nick. Good vocal. He's giving off Pat Monahan vibes here. That's the problem with Nick! His affect is generic. One week he's Chris Daughtry, the next the Train guy. If I heard his voice on the radio I wouldn't instantly go–THAT'S Nick Fradiani. Turns out, he and the vocal coach arranged the song. Who isn't a musician Harry? Hmf. Keith thought it was amazing. Jlo was happy when he got up off his stool to move. Better that he didn't plan it! Harry wasn't feeling the arrangement. He missed the urgency from the original.
Quentin Alexander – The Sound of Silence by Simon & Garfunkle – Quentin didn't start singing until high school. His mother cried the first time she heard him. Quentin is back! Love his interpretation of this song. Gorgeous and thoughtful phrasing. Yada yada yada pitchy moments. I don't care. That was beautiful. Jennifer gives him a little motherly lecture about controlling his emotions before she says "That was a nice performance." Harry thinks he's good at interpreting lyrics and loves the way he holds notes. PITCH! Harry doesn't care if people are tired of hearing him saying it. Keith loves the way he conceptualizes his performances. Quentin felt his first performance was better. Just as the music begins playing him off he says, "I meant no disrespect. I was feeling a genuine emotion." Ryan says he looked like he was going to hit Harry. "I was raised better than that" says Quentin. Harry still looks really mad.
Jax – Beat It by Michael Jackson – She's very close to her dad, who was injured in 911. This song choice had HIGH TRAINWRECK potential. Again, Jax is singing as its, but giving it some awesome RIOT GRRRL PUNK attitude. This is surprisingly good. She loses control a little at the end, and that might cost her in a singing competition, but I liked the performance A LOT. It's ENOUGH to be yourself, Jax! Harry loved the static electricity in her hair. Ha. He loved watching her running around the stage. Keith calls it contagious. Jlo felt she made running around like a silly person look cool. Ryan came back bearing hairspray and a can of wipes. He and Harry play football with the wipes container. Hijinks still don't lighten the mood.
Rayvon Owen – Always on my Mind by Willie Nelson – Rayvon wants to go deeper. He wants to tell a story! Scott asks about his dad, who was mostly absent. "The best storytellers are telling their story," says Scott. "He's going to have to deliver the performance of his life," he says to Ryan in the studio. Damn. This is a good performance. No really. A perfect song choice for him, and he's pouring emotion in it. The edges are too smooth. There's nothing like Willie singing this song. But in his own way, Rayvon is feeling it. Keith called it the right song "beautiful." Jlo had the goosies. Harry thinks he's a ballad singer, essentially.
Joey looks really nervous. Keep it together girl!
Joey Cook – Somebody to Love by Jefferson Airplane – Her mom is really eclectic. Country music has been a big influence too, because she's from Texas. Oh dear. She's doing the song with banjo and mandolin. This was not the song to pull out for a sing off. It's quintessential Joey, but I'm not sure her oddball take is going to win over viewers. I think the arrangement is fun and fresh, but she seems a little nervous. Rayvon was on the mark. Jlo felt the performance gave the audience ALL THE COLORS. Harry calls it a different kind of groove. He loves her inventiveness. Keith felt he got a sense of what she'd do in concert.
Well folks. YOU KNOW WHAT TO DO.
#SaveJoey
#SaveRayvon
Save your favorite! Mine is Joey.
Wow. The winner won by 52%. I tried so hard Joey!
Rayvon Owen SAVED AGAIN. Holy shit he's a fricking CAT. He's never leaving.
Joey Cook ELIMINATED from American Idol
Vote via Google (Search for "Idol Vote"), Facebook & AmericanIdol.com – Click for Info
Quentin Alexander – 1-866-436-5711 – Text 11 to 21523
Clark Beckham – 1-866-436-5709 – Text 9 to 21523
Nick Fradiani – 1-866-436-5706 – Text 6 to 21523
Jax  – 1-866-436-5707 – Text 7 to 21523
Tyanna Jones – 1-866-436-5705 – Text 5 to 21523
Rayvon Owen – 1-866-436-5702 – Text 2 to 21523