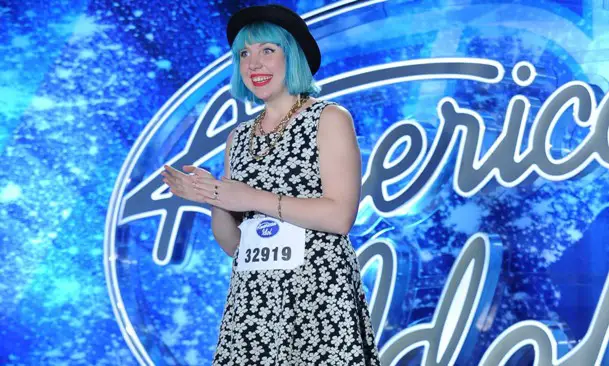 American Idol Recap Live Blog Season 14 Kansas City Auditions VIDEO
We're LIVE BLOGGING the American Idol 14 Kansas City "Best of the Bus" auditions!
Idol stopped off in 11 towns. The best of those auditions all gathered in Kansas City to sing for Keith Urban, Jennifer Lopez and Harry Connick Jr.!
"Big" Ron Wilson – "Let's Get It On" Big Ron – They call him "BIG SEXY" Ron informs us, helpfully. Ron talks about himself in the third person. That's pretty much all you need to know about him. He enters the room singing "Jenny from the Block" before shamelessly flirting with her. He asks her to call him "Big Sexy." Alrighty. While Ron serenades Jennifer, Harry and Keith give up and talk barbeque behind her back, before just leaving the room. His singing? I might have left the room too. They come back, eventually. Jlo says she loved it. She didn't even notice the others were gone. "You missed it!" says Jlo. Harry says there's lots of showmanship, but he has to be careful with that. "Did you hook up with him while we were gone?" says Harry. "You're an idiot."says Jennifer. Inexplicably, Ron gets 3 yeses. When "big sexy" delivers the news to mom, her scream makes dogs all over America howl. – 3 Yeses
http://youtu.be/8JVlf9JQ47Q
Ian Subsara – 28 – "You Make Me Feel Like Dancing" – Ian has a high, squeaky voice like Mickey Mouse. Harry encourages him to sing as high as he possibly can. It's pretty painful, and very silly. "As entertaining as that was…it wasn't what we're looking for," says Harry. Basically mocking his voice–Ian  was a really good sport about it. – 3 noes.
http://youtu.be/5gFayRNODf0
Ashley Lusk – 15 –  "Boondocks" by Little Big Town – Josh Sanders – 26 – "Washed by the Water" by Needtobreathe – Casey Thrasher – 23 –  "Who I Am With You" by Chris Young. There's a couple of returnees amongst these guitar strummers (Casey, Josh). Unfortunately. MONTAGED.
http://youtu.be/RRGqr07zwEk
Joey Cook – 23 – "King of Spain" by the Tallest Man on Earth – Offbeat, blue haired girl shows up with an accordion, which she calls a squeezebox.  She says accordions need to be more than polka music. Free the accordion! The thing is, her quirky voice is interesting, with a compelling tone and phrasing. But I found the messy accordion playing REALLY distracted from the performance. It's a gimmick. It got her noticed. Now she needs to lose it. The judges table turns into a free-for-all during her audition. Are they even listening to these singers? Anyway. Joey could actually turn out to be one of my favorites, if she keeps it real. Keith tells her it was his favorite voice of the whole day. Jennifer says she looks like a little doll. She loved it. Harry cautions her about being too novelty. He's correct about that. 3 yeses.
http://youtu.be/IUE7tJL5smU
Alexis Gomez – 22 – "Little White Church" by Little Big Town – Just because you're country doesn't mean you have to wear boots! Alexis describes herself as a "hippie Mexican hillbilly." She's rockin with her guitar. Keith sings along. He doesn't feel her voice is fully realized yet. Harry thought it was good, but not spectacular. Jennifer loves her. It's up to Harry whether she'll go through or not. He hesitates, but says yes. I kind of liked her. She brings a different vibe to country music – Keith says no. Jlo says yes. Harry says yes.
http://youtu.be/crvl6vk4JhY
Anton Bushner – "Tonight I Wanna Cry" by Keith Urban – Keith is his favorite singer! He's got a lovely tone, and the judges loved him but… I'm not seeing star power. He doesn't seem entirely comfortable up there. Keith was tearing up! Harry absolutely loves him. EVERYTHING ABOUT HIM. Jlo loves his real sweet voice.  His voice was really sweet. The best thing about that performance was his sweet tone. But I just wasnt' feeling that. – 3 yeses.
http://youtu.be/Cz3PxMC0q0Q
It's time to play Hollywood Or Home for a dude that screams "Rumor Has It." I'd send him packing. But what do I know? Nothing…because we see him celebrating with his golden ticket.
Stephanie Gummelt – (Original Song) – Wow. This girl has nothing on the earlier contestant, Ian, with the high voice. Her speaking voice is literally cartoonish. She sings an original song, and as I suspected, her singing voice turns out to be COMPLETELY DIFFERENT.  It's lovely and sweet, although she went off pitch a bit. Her original song isn't bad, either. I could hear a little Joni Mitchell influence in her songwriting. She has a crush on Steve Perry. ha. "If he was here right now I would literally vomit!" Harry quips, "What a journey." Jennifer liked her a lot. Harry thinks she needs to be more committed. He says no. Jlo and Keith say yes. Harry is right I think. She needs more experience. She was pretty adorable, though. – Harry says no, Keith & Jlo say yes.
http://youtu.be/z4BWdVet-vY
Ashley Stehle – 15 – "If I Ain't Got You" by Alicia Keys – Her parents are deaf. Her dad got implants recently, and heard her sing for the first time. She brings her family into the audition room to demonstrate–she has a small device pinned to her dress.  Sadly, singing is really REALLY off pitch, but the story is heartwarming? Harry says that her family clearly loves her. Oy. They have to reject her in front of them. "You're not ready for this competition," he explains gently. Keith lets her down easy too, using some sign language so that her parents understand. "Heartbreaking" he says after she leaves. AWKWARD. – 3 noes
http://youtu.be/-BK0HTdt6Fw
Ellen Peterson – 22 – "I Want to Be a Cowboy's Sweetheart" by Patsy Montana – She accompanies herself on banjo. She's got a sweet, old fashioned voice. She's a decent banjo player. She yodels too. Harry liked that she didn't overplay the picking. Keith calls her a pro and feels there's more going on under the surface. Jlo thinks she's just about to bloom. Ellen plays banjo in her family's bluegrass band, so she does have experience. She's talented, but I wonder how versatile she is outside of her niche? Before she leaves, she plays The Beverly Hillbillies Theme while Keith and Harry sing. Cute. Jlo says the didn't have The Beverly Hillbillies in the Bronx. Really. – 3 yeses.
http://youtu.be/43mTn5SYQDw
Kholton Pascal – 21 – "Sitting Here Beside Me" (Original) – This guy lives in a tent. He moved out at 16. He travels from town to town like a hobo. He's never been one to stay in one place. He sleeps with all of his stuff tied to him. He calls it fun. Hm. That does not sound like fun. He believes he must suffer greatly for the things he loves. Oh youth. Also depression. I can't see this guy handling the pressure of the competition, to be honest. He's got a gravelly voice that borders on the uncomfortable. Oy. This song is really weird, like a scary dirge. Harry wonders if he's willing to go out of his comfort zone? Jlo wonders if he can reach past his dark place. Keith likes his talent, but thought there were problems with his presentation. He likes his talent. To be honest, I found that performance unsettling. He gets 3 yeses.
http://youtu.be/QkNIMNEL50M
Thirty Seven contestants advance to Hollywood. Tomorrow, it's the New York Auditions. Adam Lambert steps in for Keith Urban.