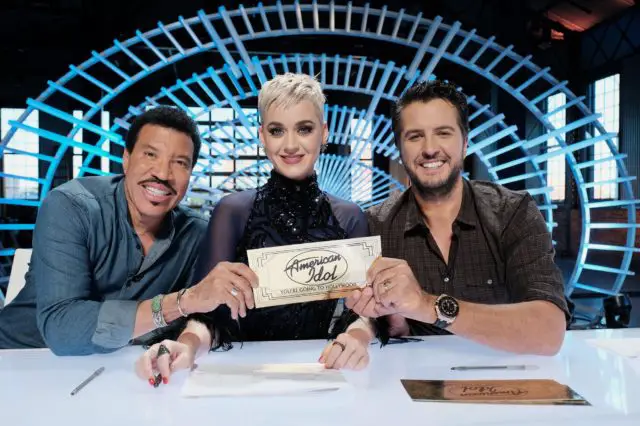 With American Idol returning to television on Sunday March 11, let's take a look at the numbers. It remains to be seen if ABC can profit from the show's return.
Lucky for us, Hollywood Reporter did all the hard work, putting together figures from both the FOX days and what the show is costing ABC now.
Jennifer Lopez was pulling a $20 million salary by the time FOX cancelled American Idol. Ryan Seacrest was making $15 million.
American Idol cost $2 million an episode to make by the time FOX cancelled it. The network was paying a premium of $1 million for every episode beyond a certain threshold of about 30 hours a season.
FOX aired as many as 60 hours of American Idol per season. (ABC has ordered 19 episodes, which will air over 38 hours on Sunday and Monday nights.)
At its height, American Idol was commanding more than $600,000 for a 30-second commercial spot.
Katy Perry is earning $25 million as a judge for the current reboot. Ryan Seacrest a little more than $10 million to return as host. Ryan took a pretty serious paycut there. All things considered, he deserved to be paid at least the $15 million he was earning at FOX.
The network is guaranteeing a 1.8 rating in the key 18-to-49 demographic to media buyers, including seven days of delayed viewing. (So far in the current cycle, The Voice is averaging a 2.5 in overnight ratings alone). The expectation seems fairly modest.
Media buyers are paying nearly $200,000 for a 30-second spot, compared with a high of $150,000 on Fox during the last season. The premiere is sold out, while the rest of the season is 75% sold.
Coca-Cola, an initial sponsor of American Idol, paid of $10 million to Fox. ABC's pacts with Macy's and Johnson & Johnson allergy medication Zyrtec, are reportedly paying integration fees of up to $1.5 million. I'm still trying to figure out how Zyrtec will be "integrated" into the show. Maybe one of the cast members has an allergy? It's certainly not as easy as sticking red cups in front of the judges.
Sidenote: As far as the sexual misconduct controversy swirling around Ryan Seacrest, ABC Entertainment president Channing Dungey and Cecile Frot-Coutaz, CEO of the show's producer, FremantleMedia, are standing firmly behind him, at least for now: 
"We stand by the results of the investigation," says Dungey, referencing the independent inquiry E! commissioned that cleared Seacrest. Adds Frot-Coutaz: "I've known Ryan now for almost 16 years. I stand by him. Obviously it's unfortunate. I'm not privy to the details. He seems to be very robust in his defense. And we'll see where it all goes."
American Idol premieres Sunday March 11 at 8 pm on ABC.