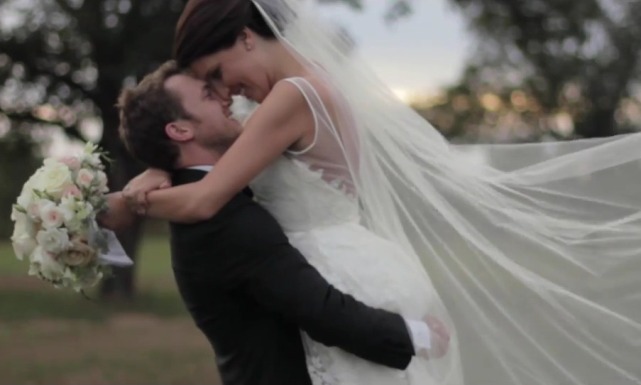 Watch the sweet wedding video commemorating Phillip Phillips and Hannah Blackwell's wedding. The American Idol season 11 winner and his bride were married on Saturday October 24 in Georgia.
People magazine featured a sneak peek from their wedding video, shot by Phillip's brother-in-law, Todd Urick. It includes the couple's first dance "Dance with Me," a song Phillip wrote with his buddy and fellow musician Tim Bruns.
"It's pretty amazing! I might make her cry," Phillip said of the song, performed by Tim at the wedding. "Tim's just an incredible guy and his voice is awesome."
Friend and band member, Dave Eggar, accompanied Tim on cello, in addition to playing guitar and violin earlier in the day as Hannah walked down the aisle with her father.
"What I love most about her is she's my best friend and I can tell her anything," said Phillip about Hannah, his love of seven years. "We are fun. We have our own little language that we talk to one another [in] and it's weird!"
"My parents always say there's no one that would put up with the stuff that I do except for Phillip because we just like to have fun and we're very honest," added Hannah. "When I met Phillip, he was the answer to so many questions that I had. He just makes everything make sense for me. I feel so safe and comfortable with him."
Both Phillip and Hannah had eight attendants in their bridal party. The singer's best man was his childhood friend Ben Haggerty, and Hannah's maid of honor was her "oldest friend" Jetta Griffin.
Hannah and Phillip are currently honeymooning in the Turks and Caicos.
Watch the sweet video below