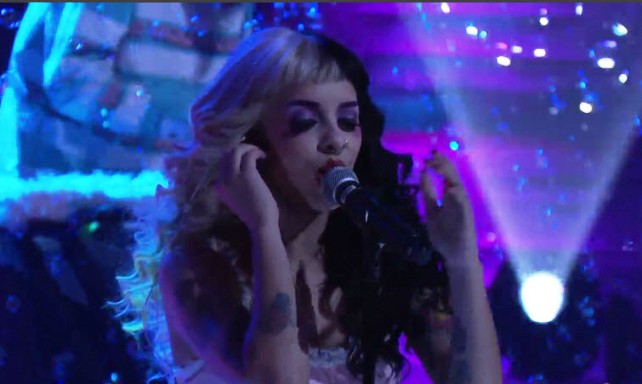 Melanie Martinez appeared on Conan Wednesday night to deliver a mesmerizing performance of her single "Soap". The song is from The Voice season 3 alum's debut album, Crybaby.
The singer commands a bubble filled stage as she rips off a fuzzy dress to reveal a set of pink baby doll underwear.  During an instrumental moment, she grabs what looks like a bottle of dish detergent and takes a big swig before spitting it out.
The singer recently told Elle magazine that "Soap" was written about her current boyfriend, and how at the beginning of their relationship she felt "too scared" to say how she felt about him. "[I] thought if I told him it'd be like throwing a toaster in his bath. So I washed my mouth out with soap," the singer said, "I think anyone can really relate to this song. I'm sure there was a time in everyone's life where they felt too scared to say how they felt so they 'washed their mouth out with soap.'"
It's all about being vulnerable, Melanie added. "Everyone is allowed to be vulnerable. I think women and men and dogs and cats and ants and aliens can all express themselves and be vulnerable."
Melanie's one of a kind performances have mesmerized audiences on the road, as evidenced by her current sold out tour.  The singer's popularity is rising so quickly, some venues along the way have had to be upgraded to larger halls. She's also getting some rave reviews from major media. She's the first non-country The Voice alum to make impressive inroads on the charts with a post-show record. Cry Baby debuted at No. 6 on the Billboard 200 when it was released in August.
Watch Melanie Martinez perform "Soap"