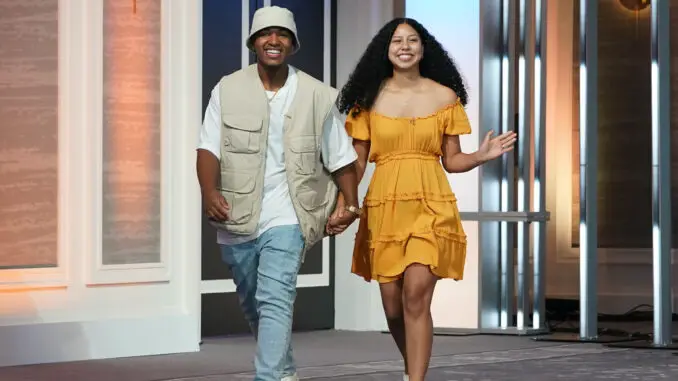 While ABC released Matt Wilson's full American Idol audition ahead of Sunday's (Feb 26) Auditions 2 episode, it's not the first time fans have seen the young singer.
Matt competed in the American Music Awards Platinum Ticket contest, where fans saw a short clip of him singing. Matt and fellow competitor Haven Madison ultimately lost to winner Elijah McCormick. But even without the Hollywood perks that come with the special ticket, Matt still has the opportunity to do well in the competition.
In the uploaded audition clip, the 21 year old singer from Buffalo, New York shares with judges Lionel Richie, Katy Perry and Luke Bryan that he currently works at a daycare center, and that his supportive wife, Melisa, accompanied him to the audition. She helped him through a crisis of confidence and encouraged him to try out for the veteran singing show.
American Idol 2023 Auditions 2: Meet The Contestants (Photos)
"She's really the one who put it all together," says Matt. "I appreciate her." Matt explains that it has been "a really long time since I have dreamed. I feel like she's the reason why I dreamed again," adding "If it wasn't for her, I wouldn't be in front of you guys."
Matt sings "For Tonight" by Giveon displaying a smooth R&B tenor. His tone is pretty and his delivery sincere. Cut to Melisa outside the doors listening anxiously.
"You have a purity and a believability"
The judges give Matt a standing ovation. "You have a purity and a believability," says Lionel. "I just love the fact that it's genuine. I love your presentation. The sky's the limit."
"Tone, tone tone," Katy adds. "It cuts through. It sounds like it's already mixed and mastered." She continues, "I'm just so glad your wife said 'baby give it one more shot'. You've got something."
"That was one of the most genuine, honest, real performances I've ever witnessed," says Luke, who asks about Matt's background. He's never even got close to any sort of deal or success so far, he states.
The judges ask for Matt's wife to join them. Melisa reveals that she was in middle school the first time she heard Matt sing. "At that age, to be able to sing like that, blew my mind," she says. "He still does every day."
In the end, all three judges say YES to Matt, and he's on his way to Hollywood.
American Idol episode 3 airs on ABC Sunday Feb 26 at 8 pm ET/PT