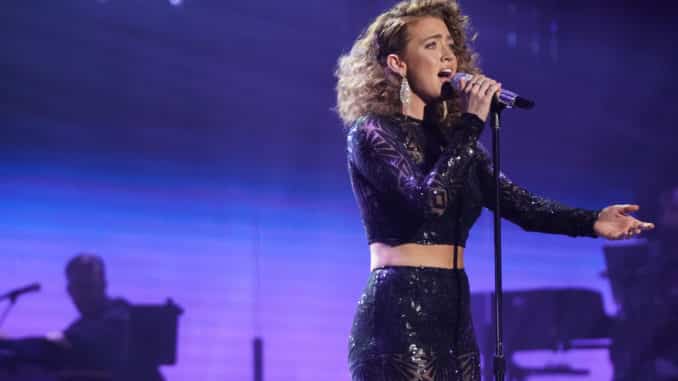 Madison Watkins latest single "Somebody" garnered over 1.4 million streams on Spotify after its release in November on the singer's Mat Wat Productions. And now the American Idol season 19 Top 12 finalist has performed the song for a Grammy "Positive Vibes Only" feature.
In the song, Madison pines for a love, and wonders what it is she's doing wrong. "I hear stories of love like in the movies/ But they're never about me/ Am I doin' somethin' wrong?" the lyrics go.
But Madison is not giving up: "I know that you're out there waiting just for me/ All that I imagine, like a vision from my dreams/ How long is forever 'cause that's how long I'll wait/ Just to spend forever here with you someday," Madison sings in the chorus.  The "Positive Vibes" performance comes just before her first 2022 single, "Lose To Love," which she'll release on March 9.
A note to her future husband
At the time Madison dropped the song, she wrote a note to her future husband on Instagram: "Dear future husband, you inspired me to write this song. Without knowing it… you are helping so many heal, have a new hope, and search for a love that is healthy and whole. I can't wait to show you this song one day while we are dancing in the kitchen laughing about how desperately we wanted to meet each other one day. I love you so much already. -Mads."
The perfectly coiffed curly-headed Arkansas native took the American Idol stage last year to belt big songs like "It's a Man's Man's Man's World," and Sara Bareilles' "Gravity." The judges saved her after an impressive take on Drake's "Hotline Bling" at the Top 12. However, the singer left the competition the following week after covering Whitney Houston's "Run To You" from The Bodyguard.
Later in the year, she told a harrowing story of almost being robbed at gunpoint while on her phone parked in front of a friend's house. "The world is crazy and terrifying right now honestly," Madison wrote. "but with Jesus I have a hope that is so far beyond what this world brings me, and I am forever grateful for that. Love you guys."