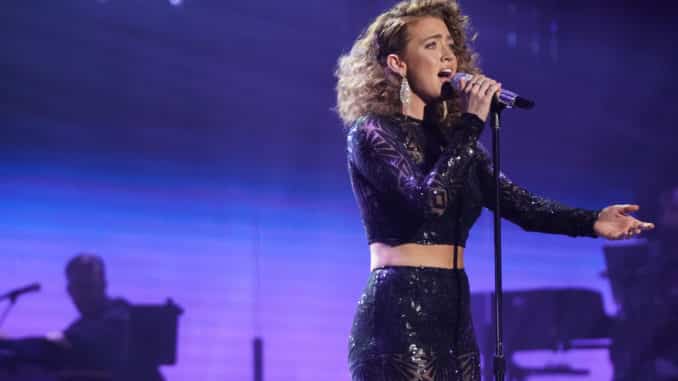 Madison Watkins, the confident curly-haired belter who made it to the Top 12 of the most recent American Idol season, posted a harrowing message to her fans today.  A month and a half ago, Madison revealed, two men attempted to rob her at gunpoint. She escaped unharmed, but understandably, the experience shook her.
She finally decided to break her silence on the matter, because she felt weird posting about her "best life" while hiding dark secrets. Mostly, the devoutly Christian singer wanted her fans to know that Jesus had her back, and that she would not have survived the ordeal without him. She also warns her female followers to be careful, especially at night, and to always tell a friend or family their plans.
Lastly, the singer describes how the experience left her appreciating how short life is, and now consciously tells the people around her that she loves them.
She posted the entire story on Instagram. Read the entire message below:
Hey guys,

This may be triggering for some or heavy for anyone going through hard things right now… But I wanted to be real with you guys about what has been going on in my life. Social media is obviously a fake world and I have continued to post like normal, but I feel like I am at a point where I want to share this.

About a month-and-a-half ago I was sitting outside of a friend's house on the phone, when shoe men came up to my car and pulled a gun on me. By the grace of God, my doors were locked and my car was on, so I put my foot on the gas and got away. There is obviously more details, but I wanted to be real about what's going on, and posting normally without sharing that recently has felt weird.

I share this publically to give thanks to God number one.. Because he protected me. There is no other way I would be typing this if you didn't. They had time to shoot, I break into my car, or whatever the motive was… they had the opportunity, and God didn't allow it. I feel grateful to be alive and I can genuinely say he saved my life.

I also wanted to share just to encourage (especially women) to be aware of who is around you. Always have someone knowing where you are/when you are getting home at night. I just love y'all and want us to continue to be safe. The biggest thing I learned from this experience is that life is so short, and any day can be our day.

I couldn't process this without God healing my heart and continuing to show me that with him I don't have to have fear and anxiety.. because he will protect me no matter what. I also have learned that I don't care when, or where, or what time it is, I want to tell those in my life that I love them any chance I get. I'm grateful for the life God has given me, and for the people he has placed in it.

I wasn't going to share this on my social because I felt like it was drawing attention to something that people could take as me trying to receive some type of sympathy, or I was worried it would just scare people. I want to be real, and it just felt fake to keep posting me living "my best life" without sharing what I'm actually going through. 

I pray for your safety as I type these words out. The world is crazy and terrifying right now honestly… but with Jesus I have a hope that is so far beyond what this world brings me, and I am forever grateful for that. Love you guys. Thanks for joining this journey with me.
Watch Madison sing "Hotline Bling" for the judges save. After, the judges chose her as one of their two wildcards.