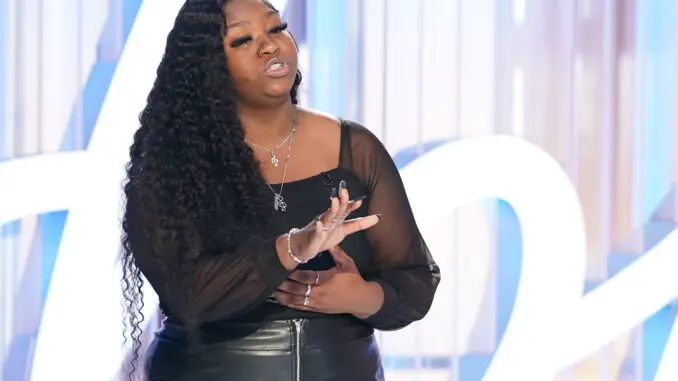 American Idol Season 21, the tag lined, "party of the century" started off strong with a very talented premiere episode. It included several big moments including a platinum ticket and two recognizable The Voice alums (Michael Williams and Megan Danielle) auditioning. But the most memorable audition of the night was an emotional one with the return of Season 19 contestant Kya Monée. Her audition served as a tribute to her best friend, Season 19 runner up, Willie Spence.
The Austin, Texas singer reminded the judges that she was on Season 19 as the late Willie Spence's duet partner during Hollywood Week where they sang "Stay" by Rihanna and Mikky Ekko. The performance impressed Lionel Richie, Katy Perry and Luke Bryan at the time, and was one of the strongest duet round performances since the format switched to duets a few years ago. Kya said she met so many people in Hollywood week and said that her and Willie grew a "close friendship" from that moment on. Willie ended the season as runner-up to Chayce Beckham. Tragically, Willie died in a car accident this past October and Kya said she has struggled to cope with it. Willie was the one who encouraged her to audition again, saying "you have to go back" just three days before he passed.
Willie was planning to accompany Kya to the judges audition
Kya thanked the judges for pairing them together two seasons back. The singer also heartbreakingly shared that Willie was supposed to be there with Kya for her audition, and the song that he helped her choose to sing was "I'm Here" from The Color Purple. To note how close this audition was to his death, the Nashville tapings were about exactly a month after Willie's death. Thus, the grief was still very current for Kya, and she poured her feelings into her performance.
Kya's vocal was imperfect, but the emotion and pain she sang with gave me full body chills. Her voice is special in the sense that it can move people, and that it has a contemporary sound, while still invoking some classic vibes. She could have a successful career in Gospel music. She knows how to move people. The grit in her voice as she sings out the final, "I'm beautiful and I'm here" was so pure.
Kya feels she wouldn't be auditioning again if not for her dear friend Willie
As the judges stood after the performance, Katy exclaimed, "that's how you sing through crying". Lionel handed his handkerchief to Kya and said her performance was "divinely guided in the glorious name of our dear brother Willie. You did props. Thank you for that." Luke told her "way to tribute him and way to tribute what you guys were going to do together." Katy felt the performance was "on another level," saying it was "so connected to the pain and everyone is feeling this, but we also feel connected together because you were authentic like he was." Kya went through with three yeses, as Willie's cover of "Diamonds" played in the background.
Kya said she felt she "was able to honor Willie" by getting the golden ticket, and she said she doesn't think she would be there without him. An emotional scene from their duet plays in the outro with them telling each other that they love one another. This tribute was sad, heartfelt, and well-done.
Other than Kya Monée, there were some other standout vocalists. Iam Tongi, who sang a tribute to his late father and platinum ticket Tyson Venegas stood out with the best vocals of the night. This premiere also had singers like former The Voice competitor and heartthrob Michael Williams, the soulful Lucy Love, and country singer Colin Stough who all have loads of potential and the raw talent to go far.