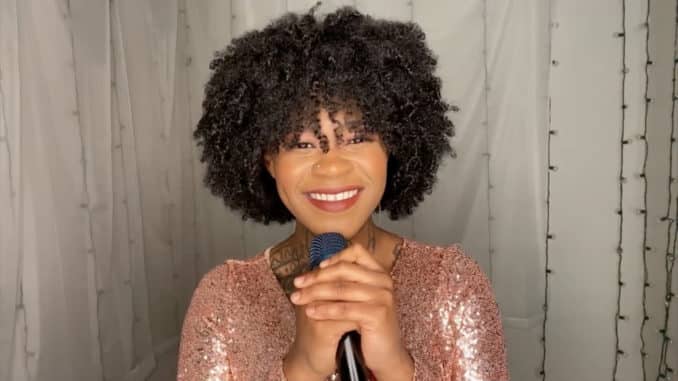 American Idol 2020 winner, Just Sam is opening up about dealing with depression, while dropping a new song, "Pain is Your Power."
"Depression is real," Sam, who now goes by her birth name Samantha Diaz, shared on Twitter. "And one month of awareness isn't enough if you ask me," she added, ""What about the rest of the year?"
Sam is likely referring Mental Health Awareness Month, which takes place every May.
"I really been kicking this depression's A**!"
"I been tired, but also I really been kicking this depression's A**!" Sam wrote. "And that's the thing about me. GOD HAS Me. No Weapon formed against me shall prosper in Jesus name. I'm so grateful to be a child of God. Knowing that no matter what, God will work it out, THAT KEEPS ME. #thankyouLord."
The song is written by Sam and Zarah Scully and released through Just Sam Entertainment. The track is upbeat, featuring empowering lyrics: "Turn the page/Take away what you can from the past/If it's meant to be then let it/If you try you won't regret it/I know that."
Her message is to embrace pain, turn it into a power, never run away from it.  "Maybe some day," she sings, "You will not run away." 
Listen to Just Sam's "Pain is Power"
Sam posts a Pride message
On an upbeat not, Sam, who came out as a member of the LGBT community after her American Idol win, shared a Pride message with her followers. "HAPPY PRIDE MONTH ! I'm coming out right here right now as a human being that loves what They love," she wrote on Twitter. "I love WOMEN . I will Marry one someday #HAPPYPRIDE CALL ME "GAY" why not?"
Her outlook is far brighter than in January, when the singer shared a lengthy message about her mental and financial struggles. Sam revealed that after competing on American Idol, she went broke trying to release music on her own.
"I invested in myself and I ended up broke"
"I am making music," she assured her fans. "I just cannot afford to release music, because mixing and mastering music costs a lot of money. And I invested in myself and ended up broke. That's the truth. Not broke, broke–like I'm living. I have my own place.
Sam said that it also cost money to get out of her American Idol contract. "I'm not even going to tell you guys the amount of money that I had to pay after leaving the label to claim songs that I had already recorded." She said.
"I'm recording all the time or making music all the time, writing every day, doing what I have to do to survive," she said.
Is Sam taking a shot at American Idol?
Interestingly, her latest Instagram post COULD be read as a shot at American Idol's 19 Entertainment and entity 19 Recordings. "To all the doors that closed on me: I'm coming back to buy the building." wrote Sam alongside a store front window that reads "19 Crimes."
 

 

 

View this post on Instagram

 

 
In mid-May Sam released a song with her frequent collaborator, Cat Clark titled "Safe N Sound." The lyrics go: "Used to think love was a four letter word now I know that it's endless."
Listen to Just Sam ft Cat Clark "Safe N Sound"