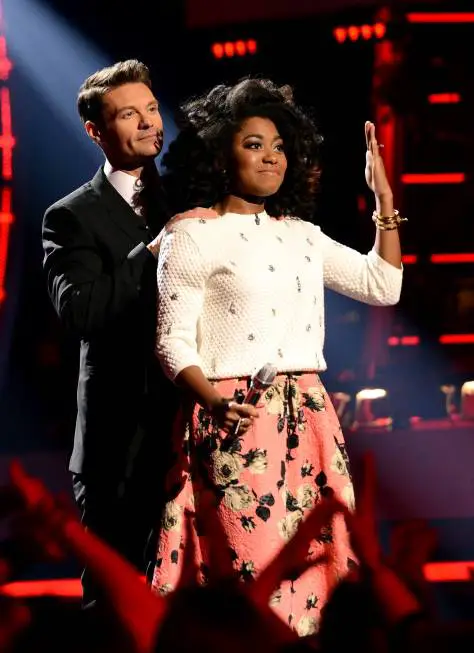 After last night's American Idol Top 9 elimination, Majesty Rose spoke with reporters about the gift she received from Carrie Underwood, the advice from singer, Janelle Monet and why she ran off stage as soon as the show was over.
Every season, Carrie Underwood, country superstar and winner of season 4, gives the new cast a gift this year was no exception! Majesty dished about the present to The Hollywood Reporter:
"Carrie Underwood gave us all gifts," Rose told reporters following her elimination. "She gave us little necklaces with our initials on it and she wrote a hand-written letter to each of us."

What did the country superstar have to say to the 22-year-old North Carolina native? "She was like, 'Just keep smiling, Majesty,'" the singer said, revealing that the special package was delivered by the show's crew. "We have a delivery for you from someone very special," she recalled them saying.
Majesty marvelled at Janelle Monet's ability to sing and dance around the stage at the same time, without seeming breathless. So after the singer performed "What is Love" while the singer's awaited their fates on last night's results show, Majesty asked how she did it.
"We're friends, by the way," Rose said with a smirk that screamed #humblebrag, marveling at Monae's ability to sing live and "dance all over the place."

"She said when you exercise, sing at the same time. I was like, Crap. That's hard," Rose mused. "Am I just gonna sing at SoulCycle?"
Once the camera's turned off, Majesty bolted from the stage, according to Zap2it:
"I ran away from everybody. Everybody was like, 'What?' It was a very strange atmosphere because after the show, when it cut off, I ran away and then everyone was standing there like [looks around]. I was about to go out the door and everybody was like, 'Majesty! Come back!' I was like, 'Why? I'm gone. Like, what? Bye everybody!'"
Harry went to fetch her. He wasn't done talking to her!
"Harry was like, 'Majesty, I have something to tell you.' I was like, 'Okay, I'll come back for you, Harry,'" she says with a laugh. "[The judges] were really affirming me a lot. It was really nice. They were just telling me about how this isn't the end, and I was like yeah, I know that. They were telling me how I am really artistic and it doesn't really matter."
Backstage after her elimination, Majesty was upbeat, according to reporters.
"It's a mixture of feelings right now. Obviously I'm sad. My whole life is changed again! But at the same time I am really happy because I made it. What number am I? [Top 9.] That's really good out of over 75,000 people. I can't be all that sad. There's worse things going on in the world than this, definitely."
On her future, Majesty said:
"I actually see myself doing everything, seriously," she says. "Being diverse, or 'divergent' like I like to call it is tricky being on 'American Idol', but I think outside of 'American Idol' it can really work in my favor a lot because I can do a lot of things. I can sing and I can act and I think I can do everything really. I can see myself on Broadway and on kids shows and everything! So I'm excited I can choose."
In this backstage interview, Majesty talks about how she's ready for anything.
Read more at The Hollywood Reporter, Zap2it