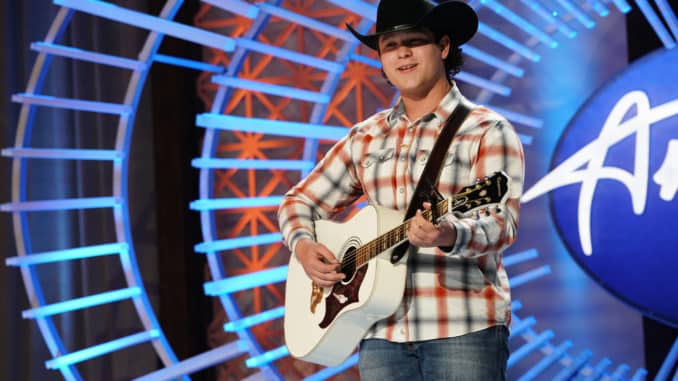 Teen country singer and songwriter, Caleb Kennedy will perform for a coveted golden ticket on this Sunday's (March 7) American Idol. Check out a preview of his performance below.
The sixteen year is from Roebuck, South Carolina, a small town of about only 2,300 people. His mom books all of his gigs, including those at local bars. The two are very close. Life wasn't easy for Caleb after his parents divorced. "Writing songs helped me find myself again," he said.
The young singer performs his original composition "Nowhere" for the judges Lionel Richie, Katy Perry and Luke Bryan, while accompanying himself on guitar. He confesses that he didn't write a second verse for the song, but he did write it solo. Katy scolds a little: "You better finish that song Nowhere, because that song is going to take you somewhere."
Caleb shares with Luke that he writes something everyday. "I've always got something going through my head." He confesses that he considers himself more of a writer than a singer. Unfortunately, he lacks confidence in his singing. 
Luke assures him that he isn't the only kid who "lacks self-confidence these days." He explains, "Your voice tells a story far beyond a 16 year old kid." Katy adds that he has something "real special" and that he's a "real songwriter" with "grit, gravel and crack" in his voice that says he knows what it's like to experience pain.  
"You have mastered a storytellers voice," says Lionel. "The three of us think you're IT," he says, adding to forget the haters, because they are jealous. Of course, Caleb receives three enthusiastic yeses for Hollywood.
Check out more on Caleb: Instagram  Live at Smileys
Watch Caleb Johnson perform his original song "Nowhere" for his American Idol audition