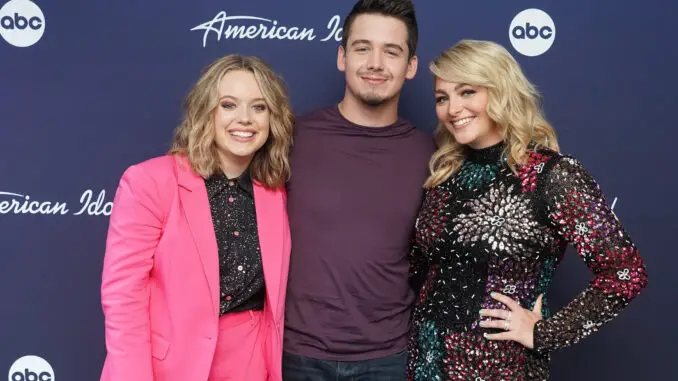 The historic American Idol season 20 comes to an end
Here we are once again! The end of another American Idol season. Last week (Read our Recap), Fritz Hager left the competition, somewhat surprisingly. But realistically one one spot was available for Fritz, Leah Marlene and Nicolina Bozzo. And Leah managed to get it. I'm hoping that 19R/BMG or SOMEBODY sees fit to sign both Leah and Fritz. Nicolina should go back to Canada and keep working that Tik Tok magic. Good things could happen to her as well.
The 3 hour American Idol finale airs on ABC Sunday May 22 at 8 pm ET/5 pm PT. The Top 3–Noah Thompson, HunterGirl and Leah Marlene–will perform their original songs, plus pick a song based on a Bruce Springsteen theme. The Top 10 contestants will be paired up with celebrity guests. Check out the full lineup:
American Idol 2022 Finale: Celebrity/Contestant Duets REVEALED
Also, the finale will feature video packages of the Top 3 as the visited their hometowns.
American Idol Top 3 Welcomed to Hometowns Like Heroes (Video)
Then, after a nationwide vote that will take place throughout the show, host Ryan Seacrest will crown the American Idol season 20 winner!
Here is my final contestant ranking for the year. I do not go out on a limb, yet I could wind up being very very wrong…
American Idol 2022 Top 3 Ranked – Who will WIN Season 20? 
3. Leah Marlene – Leah is the underdog, and yes, I am rooting for her. She's the most versatile and musical of the Top 3t. She's also a talented songwriter. There were better pure vocalists this season, but Leah never failed to put an interesting twist on the covers she sang. Her phrasing is phenomenal. It's possible 19R/BMG sign her to a record deal anyway. Or consider fellow quirkster Catie Turner from season 16, who didn't even make the finals. She eventually signed a major label deal with Atlantic! Keep writing, and work those socials baby!
Leah has what it takes to be a winner, but HunterGirl and Noah are too strong a force this season. Their original songs are stronger than Leah's too. Not that it matters at this point. People have picked their favorites. And while the Springsteen theme seems out of her wheelhouse, I am confident Leah will pick a song and present it creatively.
2. HunterGirl – HunterGirl is the least interesting of the Top 3. Her gorgeous tone is radio ready, and her songwriting solid. But after she brought the house down with her original "Heartbreak Down" at the Top 20,  her performances have been generic and predictable. However, the judges awarding her a Platinum Ticket after her audition, and the show promoting her every chance they could, helped her along. After the early rounds, there was no stopping her momentum. Only Noah Thompson can keep her from grabbing the prize.
1. Noah Thompson – Noah is an American Idol dream, plucked fresh from a Kentucky holler. A reluctant competitor at first, only on the show because his good buddy insisted he audition. Noah has never been showy or a try-hard. He steps on stage, sometimes nervous, and sings straight from his heart. His vocals are limited, but his plaintive authenticity is his secret sauce. He connects with the audience. Noah is not an accomplished musician, but he's an adroit flipper of songs. His covers of female hits like Rihanna's "Stay" and Stevie Nicks' "Landslide" have been some of his best.  His original song "One Day Tonight" is radio ready, while the Springsteen theme offers a slew of great song picks for the singer.  But even if Noah is not at his best on Sunday, he's already got this. 
Your poll results are IN.
American Idol 2022 – Who WILL Win Season 20?
Over 50% believe Noah Thompson will win Season 20
Noah Thompson – 53.62%
Leah Marlene – 24.74%
HunterGirl – 21.65%
American Idol 2022 – Who SHOULD Win Season 20?
Leah Marlene wins the SHOULD poll. But with 42% of the vote, there is not a consensus. A healthy 39% feel Noah Thompson SHOULD win.
Leah Marlene – 42.17%
Noah Thompson – 38.50%
HunterGirl – 19.33%
American Idol 2022 – Favorite Top 5 Performance (Pick Two)
Noah and Leah top the favorite performance poll. Noah's "Working Man" garnered almost 1/4 of the vote. There is a pretty big gap between Noah and Leah's "Separate Ways" at No 2. It just dawned on me that Leah sang "Separate Ways" at least partly in honor of her dad, who played in an 80s cover band.
Noah Thompson – Working Man (Encore) – 23.40%
Leah Marlene – Separate Ways (Encore) – 15.32%
Leah Marlene – I'll Stand by You (Carrie Underwood) – 13.52%
Noah Thompson – So Small (Carrie Underwood) – 10.04%
HunterGirl – Crush (Encore) – 9.36%
Nicolina Bozzo – All I Ask (Encore) – 8.36%
Fritz Hager – Youngblood (Encore) – 7.36%
HunterGirl – Undo it (Carrie Underwood) – 5.16%
Nicolina Bozzo – Blown Away (Carrie Underwood) – 4.36%
Fritz Hager – I Wanna Remember (Carrie Underwood) – 3.12%
American Idol Top 3 Reveal: Who Was Robbed?
Almost 43% believed Fritz Hager was robbed of a finale spot. Out of 7 "robbed" polls, only two others voted a contestant robbed: Morgan Gruber after the Top 24 reveal and when Allegra Miles left the Top 11.
Fritz Hager – 42.93%
Nobody was robbed – 35.86%
Nicolina Bozzo – 21.21%
Carrie Underwood as Mentor Yay or Nay
Unsurprisingly, American Idol fans love them some Carrie Underwood. Still, she was a good mentor. She comes back to the show and pays it forward. 
YAY – 63.61%
Don't care either way – 22.50%
Nay – 13.89%
Thank you! And Welcome
I have really enjoyed this season for a number of reasons. While the Top 24 were pretty talented, the eliminations were not disappointing for the most part. America got it pretty right this year! The site has been busier than it's ever been (SORRY HATERS!). And I'd like to welcome all the new peeps who have joined our comments community. Back before Twitter, Facebook and TikTok, folks formed communities on websites. That's not true anymore. It's awesome to welcome new NON-TROLL voices this season! Please do stick around. And of course, thank you to our regs. We'd be nothing without you!
FUN FACT: A very popular and well-known MAGA influencer on social media used to post here regularly. He stopped in 2015. Heh. (guess who) (he got kicked off twitter, but maybe Elon will bring him back).