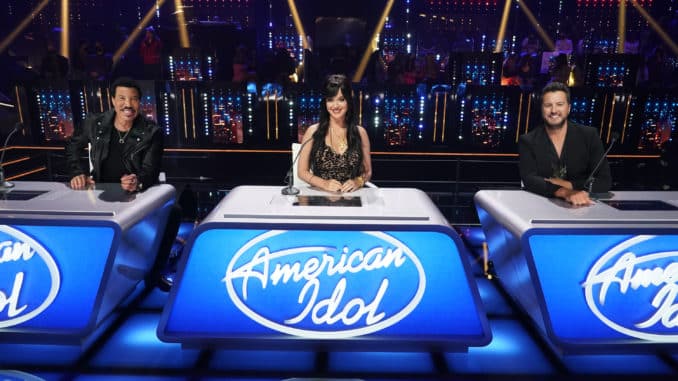 American Idol airs the first LIVE show of the 2021 season tonight (April 12).
Today was filled with BIG American Idol news. First, the show confirmed the "comeback" twist featuring season 18 contestants returning for a shot on the big stage. And news broke that Luke Bryan is OUT tonight after testing positive for COVID 19. To the delight of American Idol fans everywhere, veteran Idol judge, Paula Abdul will be filling in for him. Yipee. 
And let us pray that Luke has not infected anyone else on set. Remember, American Idol taped last night's Top 16 episode only a few days ago. 
But tonight, the Top 16 will be whittled down to a Top 12. Ten contestants will advance based on America's Vote, while the remaining six singers perform in front of the judges Lionel Richie, Katy Perry and for tonight, Paula Abdul, for a chance at two wildcard spots.
American Idol 2021 Recap: Top 16 Revealed! (Live Blog) (Videos)
You all voted in our polls overnight. Now let's take a look at the results. I'll also take a shot at predicting the four singers heading home tonight. Post YOUR predictions in comments, please.
American Idol 2021: Favorite Top 16 Performance
Casey Bishop tops the favs poll. But once again, there is no lopsided count. She only scored a 17.86%. Hunter Metts is right behind her with 13.55% and then Cassandra Coleman with 11.09%. And those three don't surpass 50%. Wow at Alyssa Wray dead last. She did not deliver her best performance last night. I think she's allowing the judges critiques to get inside her head. 
Casey Bishop – Black Hole Sun by Soundgarden – 17.86%
Hunter Metts – Skinny Love by Bon Iver – 13.55%
Cassandra Coleman – Wicked Game by Chris Isaak – 11.09%
Willie Spence – Set Fire to the Rain by Adele – 8.01%
Wyatt Pike – Use Somebody by Kings of Leon – 7.80%
Grace Kinstler – Elastic Heart by Sia – 6.78%
Madison Watkins – Gravity by Sara Bareilles – 6.57%
Ava August – 2002 by Ana-Marie – 6.16%
Alanis Sophia – The Story by Brandi Carlile – 5.54%
Chayce Beckham – Waiting in Vain by Bob Marley & The Wailers – 4.72%
Beane – Searching for a Feeling by Thirdstory – 3.70%
Deshawn Goncalves – Feeling Good by Nina Simone – 3.08%
Caleb Kennedy – Midnight Train to Memphis by Chris Stapleton – 2.05%
Colin Jamieson – Everybody Wants to Rule the World by Tears for Fears – 1.23%
Graham DeFranco – That's Life by Frank Sinatra – 1.03%
Alyssa Wray – Killing Me Softly with His Song by Roberta Flack – 0.82%
American Idol 2021: Who Will Be Eliminated? (Choose 4)
I think there could be some surprises tonight. That the judges/producers will choose wildcards also complicates predictions. For instance, there's a very good chance that Alyssa Wray won't make the Top 10. But there is also a very good chance that the judges will save her. Caleb Kennedy is practically even with Alyssa in the poll, but as the only true country singer left in the competition, I think he'll be safe. 
Colin Jamieson – 17.55%
Graham DeFranco – 17.29%
Deshawn Goncalves – 14.39%
Alyssa Wray – 9.48%
Caleb Kennedy – 9.42%
Madison Watkins – 8.90%
Beane – 6.39%
Alanis Sophia – 4.71%
Wyatt Pike – 2.77%
Ava August – 2.45%
Cassandra Coleman – 1.74%
Chayce Beckham – 1.74%
Willie Spence – 1.10%
Hunter Metts – 0.84%
Casey Bishop – 0.65%
Grace Kinstler – 0.58%
American Idol 2021 Top 16: Which Eliminated Contestant Was Robbed?
"Nobody was robbed" tops the poll, which indicates that many of you were satisfied with last night's results. However, Mary Jo Young got over 25% of the vote. I have to admit I'm a little sad to see my name twin leave the competition! 
Nobody was robbed – 29.31%
Mary Jo Young – 25.06%
Jason Warrior – 13.00%
Anilee List – 11.58%
Andrea Valles – 10.40%
Liahona Olayan – 4.73%
Alana – 3.78%
Hannah Everhart – 1.18%
Cecil Ray – 0.95%
American Idol 2021: Grade Top 16 Reveal Episode
Y'all gave the episode a B+ grade. Generally, the performances were good last night. 
B – 44.83%
A – 42.91%
C – 10.73%
F – 1.15%
D – 0.38%
PREDICTION
I fully expect to get this wrong, but I'll give it a shot: Colin Jamieson, Graham DeFranco, Madison Watkins and DeShawn Goncalves will head home. The judges gave Colin a tongue bath last night, but he wasn't very good. All the bad habits Luke claimed Colin overcame actually came roaring back. Graham hasn't had a bad performance. But there's nothing about him that stands out either. Madison delivered a well-received performance last night, but she will suffer from lack of screen time. I think the judges will save Alyssa Wray, and Beane (if he doesn't make it). And of course, they'll save favorites if some voting fluke takes them out.