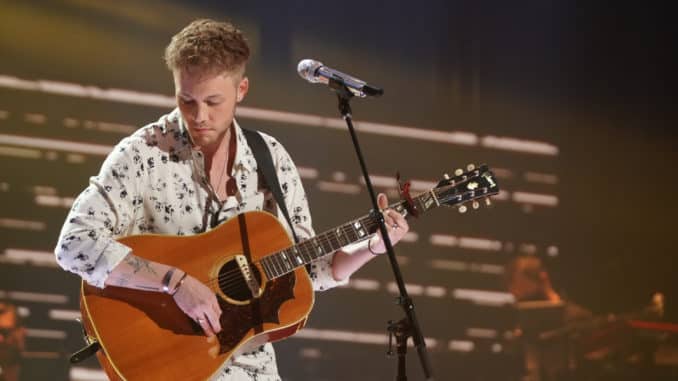 American Idol 2021 Recap Top 16 Revealed, Sing for Your Votes
Tonight, after last week's nationwide vote, The Top 24 will be whittled down to a Top 16. After, the singers will perform for the judges Lionel Richie, Katy Perry and Luke Bryan. And for your vote! The Top 12 will be revealed on Monday (April 12). Ryan Seacrest hosts, Bobby Bones serves as in-house mentor. 
Tonight's episode was taped earlier this week. THERE ARE SPOILERS. You know the drill. DO NOT REVEAL SPOILERS IN THE COMMENTS HERE. Thank you.
American Idol 2021 Spoilers: Top 16 Contestant List
American Idol 2021: Full Season 19 Schedule (UPDATED 4/11)
VOTE OPENS AT 10 PM closes at 6 AM ET. 
How Do I Vote for American Idol 2021 Contestants? Find Out Here
Alyssa Wray – Text 3 to 21523
Graham DeFranco – Text 8 to 21523
Grace Kinstler – Text 12 to 21523
Alanis Sophia – Text 1 to 21523
Willie Spence – Text 11 to 21523
Deshawn Goncalves – Text 7 to 21523
Wyatt Pike – Text 4 to 21523
Cassandra Coleman – Text 2 to 21523
Caleb Kennedy – Text 22 to 21523
Colin Jamieson – Text 19 to 21523
Casey Bishop – Text 24 to 21523
Madison Watkins – Text 14 to 21523
Beane – Text 15 to 21523
Hunter Metts – Text 23 to 21523
Ava August – Text 21 to 21523
Chayce Beckham – Text 18 to 21523 
TIME FOR RESULTS! The first person to make it into the Top 16 is Alyssa Wray!
Alyssa Wray – Killing Me Softly with His Song by Roberta Flack – Alyssa is trying something a little different tonight.  She's singing a slowed up ballad. I usually like Alyssa, but I'm not digging her nasally phrasing. She shifts quickly into growly big notes. This feels messy. Not her best performance. Katy called it "totally a vibe." She feels Alyssa took her advice and became an artist. Luke agrees. "Amazing" he says. Lionel feels like Alyssa displayed great pacing tonight. "Stellar" he says. I just did not love that. 
After the nationwide vote…Graham DeFranco has made it into the Top 16!
Graham DeFranco – That's Life by Frank Sinatra – He sings a bluesy version of Frank Sinatra's standards classic. Is this a cover of a cover? Because it's a good arrangement. It's smart to step out of his box a little. I still find his presentation too sleepy. He lacks dynamics and charisma. But the song choice and arrangement is A+. Luke calls Graham's voice "timeless." Lionel appreciates his swag and attitude. Katy compliments his cool and comfortable song choice. She calls him an underdog. She advises, though, that he take it to the next level. She's got a point. 
The next person to make it into the Top 16 is…Grace Kinstler!
Grace Kinstler – Elastic Heart by Sia – Grace was born to sing Sia songs. Her big, solid voice soars on the high notes. But she's not taking a huge risk this week. She got some criticism last time for her solo, maybe that's why she's being cautious. Lionel calls her a voice to be reckoned with. Katy compliments for taking Joss Stone's notes last week, to go "slow and steady." She felt that Grace told a story. Luke sees so much promise in her. Grace admits she was "really scared" coming into tonight. She seems spooked.
And the next contestant to make it into the Top 16 is Alanis Sophia
Alanis Sophia – The Story by Brandi Carlile – Alanis' performances can be almost TOO effortless. But tonight, she's tearing through this Brandi Carlile song impressively. Her range is unbelievable. She barely needs to use her head voice. But she does, to end the song on a sweet note. Katy compliments her for keeping it together. Luke advises her to watch her breath on the lower end stuff. Lionel thinks we witnessed an "explosion." He suggests that she work the stage, and not stay in her head.
The next person to make it into the Top 16 is Willie Spence.
Willie Spence – Set Fire to the Rain by Adele – As he often does, Willie mines the catalog of iconic female singers. He sings with sensitivity and feeling. He hits a modulation and doesn't miss a beat. The last few notes were a little shouty. But his ability to traverse some tricky notes makes up for it. That was pretty spectacular, overall. Luke compliments him for sucking the audience in, before going for the big stuff. Lionel thinks God took control of him. He compares him to Luther Vandross and more. Katy says, "You are possessed in a Godly way." 
The next person to make the Top 16 is Deshawn Goncalves
Deshawn Goncalves – Feeling Good by Nina Simone – for the second time, Deshawn starts a performance a capella. As a device, it's quite dramatic. Deshawn must know he's an underdog. He's not playing it safe tonight. However, this song has been sung a ton on singing shows. And it's been sung better a ton. Some of the phrasing is nice, but other than the a capella intro,  that was a little boring. He threw in an odd big note at end. Lionel compliments him for the risky a capella bit. Katy thinks he can keep advancing, if he keeps his confidence. Luke loves watching his growth. 
And next into the Top 16 is Wyatt Pike!
Wyatt Pike – Use Somebody by Kings of Leon – He performs this 2009 hit accompanying himself on guitar, and changing up the phrasing, but still manages to add a rock edge. I don't think I've heard his voice so raspy and growly. This is pretty terrific. Kudos to the arranger. Katy calls him a good guy, and an authentic singer-songwriter. She wants to see more vulnerability from him in the future. Luke promises that Wyatt will be able to do music for the rest of his life. Lionel compliments his style. "You're on the way to something big."
Ryan calls the LAST NAME from the first night of performances. It's Cassandra Coleman. The rest must have known they were toast.
Cassandra Coleman – Wicked Game by Chris Isaak – Cassandra continues to be a consummate stylist. She can turn any song into her own. This is another song that's been covered a ton on singing shows. And her rendition is completely fresh. Her vulnerability is always front and center. Beautiful. STILL MY FAVORITE. Standing ovation from the judges. Luke loved her verses, but adds that she needs to soar more on the chorus. Lionel says "don't put your mind in front of your voice." Katy wants to see her on tour. 
It's time for the second half of the Top 24 to learn the results! Next in the Top 16 is Caleb Kennedy.
Caleb Kennedy – Midnight Train to Memphis by Chris Stapleton – This is Caleb's most confident performance to date. He's still a little under-baked? But his gravelly vocal delivery has potential. Lionel calls him "stone cold" adding, "that was brilliant." Katy wants to know who he is. "You are becoming the outlaw." Luke likes that at 16, he sticks to his guns. He does seem to know who he is and what he wants. 
Next to make the Top 16 is Colin Jamieson.
Colin Jamieson – Everybody Wants to Rule the World by Tears for Fears – This is a great song choice. But he's still doing the breathy thing. He's also taking breaths in the wrong places. I think he's nervous. His performances last week were better. He's clipping the end of each line, rushing through the song. He throws in a few nice runs though. He's much better when he uses his full chest voice. Katy thinks a whole new side came out, She calls him an "incredible" vocalist. That was far from perfect, Katy. "You can sing your butt off," says Luke, who claims he is no longer breathy. LISTEN TO THAT PERFORMANCE BACK LATER BRAH. Lionel compliments his confidence and sense of fun. 
And the next person into the Top 16 is Casey Bishop!
Casey Bishop – Black Hole Sun by Soundgarden – Her bell bottoms are a nice touch. I don't love this song choice. Finally though, the song picks up at the end, she shows off her strong and impressive rock chops. Still, the song meandered for too long. Luke says, "You can sing anything you want to." Lionel wants to know where the extra pair of lungs are on her. Katy calls her vocals "A level." She calls Casey "dangerous." The young singer confesses that she only recently discovered the group. What, when a producer suggested she cover the song? 
And now, Madison Watkins is in the Top 16
Madison Watkins – Gravity by Sara Bareilles – The verse, in her lower register is a little pitchy. The second verse is better. She's going for the slow build here. Her only big note is the "DOWWWNNNN" in the chorus. She ends on a subtle note. Props to her for resisting the urge to take it big fast. The judges love seeing her serious, storytelling side. Katy says it's the best she's ever sounded. Luke calls her vocal flawless. Madison showed a softer side tonight, for sure.
Ryan announces that Beane has made the Top 16!
Beane – Searching for a Feeling by Thirdstory – Last week, Beane said eff it! I'm going to match the pronouns in this song to my gexuality. And he got through to the Top 16 anyway. Hooray. Beane is not only a canny player, but he's unapologetically himself. On top of that, he's a musical, versatile performer. Great rendition of a pop song. Katy loves his risks. Luke calls him entertaining and a great vocalist. Lionel thinks Beane has made America love him. 
The next person to make it into the Top 16 is Hunter Metts
Hunter Metts – Skinny Love by Bon Iver – Hunter's money is his tone. It's so pretty! He has a trembly sound that highlights his vulnerability. He and Cassandra are two sides of the same coin. He pours on the emotion on the last verse. That was close to perfect. Maybe Hunter's best performance. Luke compliments Hunter for "digging in." Lionel compliments his "instant identity." Katy says, "you gave us growl." He really did step out tonight.
Another person making it into the Top 16 is Ava August!
Ava August – 2002 by Ana-Marie – Ava's superb performance last week won her this spot in the Top 16. Talking dark horse here. Her distinctive sound has won American over. And me too, as she delivers a lovely and confident performance. That trip to her head voice was gorgeous. Lionel is proud of her for breaking through. Katy calls her "double a" and reminds her that classic always trumps cool. Luke agrees. They both want her to stick to the songs with "elegance and grace" like her "Both Sides Now" cover with Josh Groban. Hm. Oldies are great, but a young singer also needs to show fans she can hack it out in the real world. 
The LAST person to make it into the Top 16 is…Chayce Beckham!
Chayce Beckham – Waiting in Vain by Bob Marley & The Wailers – Chayce performs a twangy version of a Bob Marley favorite that never gets anywhere. There is always something compelling about Chayce's easy, gritty vocals. But he needs to choose songs that allow him to show his vocal and emotional range. That actually goes for everybody on a singing show.  I kept waiting for something to happen during that performance, and it never did. Luke is happy to sit here and watch him. Lionel calls Chayce identifiable. 
Tomorrow night is the FIRST live show! Ten singers will advance automatically to the Top 12 based on viewer votes. The remaining singers will perform for the judges, who will choose two WILDCARDS to make a Top 12. 
American Idol 2021 Top 16
Alyssa Wray
Graham DeFranco
Grace Kinstler
Alanis Sophia
Willie Spence
Deshawn Goncalves
Wyatt Pike
Cassandra Coleman
Caleb Kennedy
Colin Jamieson
Casey Bishop
Madison Watkins
Beane
Hunter Metts
Ava August
Chayce Beckham
Eliminated
Alana
Anilee List
Andrea Valles
Cecil Ray
Jason Warrior
Hannah Everhart
Mary Jo Young
Liahona Alayan